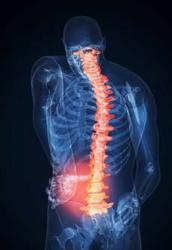 Spinal cord injury is a debilitating problem often suffered by innocent people who are the victims of negligence and carelessness
Sacramento, CA (PRWEB) September 25, 2012
A University of California, San Diego, team of researchers has experienced success in regenerating axonal growth in the spinal cords of test animals, according to the results of a study released this week. The study was published in the trade journal, Cell, on September 14.
In simple terms, researchers applied a gel of fibrin, a human blood protein, mixed with growth factors to the area of spinal cord injury in laboratory animals. The responding growth in axons, the neurological relays that transmit signals up and down the spinal cord, was 200 times what had been previously observed after a six-week trial period. The axons also grew up to ten times longer than in previous studies, suggesting that the gel might help regenerate connections in damaged spinal cords even if the damage covers a relatively large area. The results were replicated using human stem cells. This is the first study to use green fluorescent proteins (GFPs) that allowed researchers to observe the growth of the stem cells as it happened.
According to the National Spinal Cord Injury Statistical Center, at least 12,000 people each year are affected by spinal cord injury. Up to 327,000 people are living with the effects of spinal cord injury, including paralysis and loss of use of body parts. About 68 percent of all spinal cord injuries are due to accidents or falls.
"Spinal cord injury is a debilitating problem often suffered by innocent people who are the victims of negligence and carelessness," says John Demas, Sacramento spine injury attorney. "These victims deserve the very best in medical care and research to find ways to allow them to return to life as they knew it before their accidents."
About Demas Law Group, Sacramento spine injury lawyer
The Demas Law Group, P.C., represents victims who have suffered from injuries caused by the negligence of others. Their practice includes auto accident cases, pedestrian collisions, catastrophic accidents, DUI injuries, product liability cases, medical malpractice including defective medication, nursing home neglect and abuse, and wrongful death cases.
Attributes:
"Researchers regenerate axons at spinal cord injury site," Staff Writers, News-Medical.net, September 17, 2012.
NSCISC, "Spinal cord injury facts and figures at a glance," February, 2012.