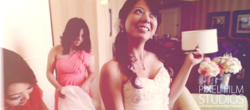 Huntington Beach, California (PRWEB) September 24, 2012
Wedding films created by the people at Pixel Film Studios appear to be getting more and more popular. Fans, of this Aliso Viejo based production company, just can't wait to see what happens next. From weddings to commercial shoots, their unique edgy vintage style is becoming infectious.
Pixel FIlm Studios latest release is of a Huntington Beach Hyatt wedding film. After 48 hours of it's release it acquired over 12,000 views.
"There has been unbelievable attention lately with the wedding market." said Christina Austin, Owner of Pixel Film Studios. "We have grown fast since we created an edgy vintage wedding style. Also, the artistic level of each film we create has been getting more and more custom. Many competitors have a cookie cutter system that is becoming stale."
Romance abounds at Hyatt Regency Huntington Beach Resort & Spa. Throughout our enchanting resort, you'll discover warm touches such as delightful Andalusian architecture that evokes the feeling of the Mediterranean, bubbling fountains, rich wood furnishings and stunning views of the glorious Pacific Ocean.
Whether you envision a simple gathering with a few family and friends or an elaborate formal affair, each wedding at our oceanfront resort in California's famed Orange County is treated as a special event.
"It was an great day for the whole team." said a Pixel crew member "This experience couldn't have been better for this lucky couple".