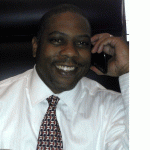 Criminals are looking for that unsuspecting person, desolate lot or vacant building to make a move.
(PRWEB) September 26, 2012
Seasoned law enforcement officer Nathaniel Brown started his own security guard company, guardNOW, to provide nontraditional security guard services to businesses and civilians in the Los Angeles area. With more than 17 years in law enforcement experience, Brown has witnessed a plethora of crimes and injustices that could have been prevented if an experienced professional were present. He's taking his passion for providing security to communities by opening his own business. guardNOW specializes in safety services ranging from assisting with evictions and employee firings to guarding construction sites and private residences and so much more.
"People don't think about getting protection for certain crimes that actually happen quite often like copper being stolen from a construction site, burglaries when a home is being fumigated or car break-ins when a resident is out of town," explained Brown. "It's these types of crimes that probably never would have happened if someone was guarding the area. Criminals are looking for that unsuspecting person, desolate lot or vacant building to make a move."
Brown's business provides preventative services to help avoid these acts from occurring. His Los Angeles security guard company offers services without any contracts or long-term agreements. His team of skilled and trained guards can be in the area in just two hours, perfect for unexpected emergencies where additional assistance is required and law enforcement is not available.
Brown spent 17 years in law enforcement and seven years in public safety providing him with a unique skill set that separates him from other security businesses. He is a member of the Pasadena Chamber of Commerce, the Altadena Chamber of Commerce, the American Society for Industrial Security and the Masonic Organization, a world-wide group of men who give back to their community. In his free time he enjoys spending time with his family, bowling and golfing.
guardNOW is a security guard franchise founded by Zabi Kator in 2010 that specializes in providing unique security guard services anywhere and anytime. Its franchisees have extensive law enforcement and security experience providing them with the skills, knowledge and experience to provide the best service possible. If you have a background in security and are interested in starting a new venture contact 877guardNOW or visit http://www.guardnow.com.