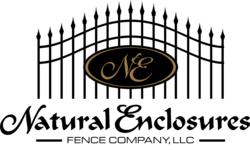 Our new website will help clients select just the type of fence that they want and it will help us get our message out to the Metro Atlanta area
Stockbridge, GA (PRWEB) September 26, 2012
The Stockbridge GA fence experts at Natural Enclosures Fence Company are bringing a new look their fence building operation with a completely new website. The new website has numerous galleries and product descriptions that allow website visitors to view and evaluate the various fence products offered by Natural Enclosures. The galleries provide detailed high resolution images of Natural Enclosures commercial and residential fence projects, which help customers get a good look at the fencing products and decide on the type of fencing that they want for their property.
Once a fencing selection is made, Natural Enclosures will install great looking commercial or residential fencing, driveway gates and estate gates for clients in Atlanta, Stockbridge, McDonough, Newnan, Jonesboro, Peachtree City, Jackson, Fayetteville, Carrolton, Covington, Conyers and Lithonia GA. Natural Enclosures is known for their fast professional installation and customer service that ensures every customer is a happy customer.
Natural Enclosures spans the fencing world, and can build any type of fence a customer desires including residential and commercial wood fences, metal fences, ornamental fences and vinyl fences. They also install high security commercial fencing, temporary fencing and automatic gates and entry systems. Other Natural Enclosures products include residential estate gates and swimming pool fencing. The company refurbishes wood fences as well, to give them a "like new look" without having to be replaced, which saves property owners money and makes their property look great. Wood fences can be rejuvenated in a number of ways including pressure washing, staining, waterproofing and painting which can make a fence look new at a fraction of the price of replacing it.
Natural Enclosures also provides commercial fencing for businesses and governmental agencies including facility security fencing, venue fencing for locations such sports fields and automated gates and entrances for all commercial properties. When a commercial customer needs temporary fencing Natural Enclosures can provide just the type of fencing they need. The Company's Temporary fencing is extremely cost effective and has numerous applications such as large event operations, sporting events, farm operations, construction sites, governmental operations, safety functions and facility perimeter security.
The owner of Natural Enclosures Fence Company, Danny Kilpatrick, commented about the company's new website. "Our new website is going to be a great addition to business. It will help clients select just the type of fence that they want for their home or business and it will help us get our message out to the Metro Atlanta area about our fencing products and services. The bottom line is that the new website will help us as we grow our business by providing a great place for clients to look over our products and services. To celebrate our new website I am offering a special on chain link fencing and any customer who orders 200 ft or more of chain link fencing by December 31, 2012 will receive a free 10 ft. double-drive gate with their purchase."
Natural Enclosures Fence Company specializes in residential wooden fencing, chain link fences, ornamental fences and entrance gates. They also provide commercial fencing for businesses and governmental agencies including facility security fencing, venue fencing for locations such as sports fields and automated gates and entrances. Natural Enclosures is located in Stockbridge, GA and can be contacted online or by phone at 770-826-6481.