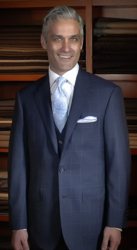 New York, NY (PRWEB) September 25, 2012
Recently Barron's, the journal of American business, announced an uptick in the sales of men's business wear, sparked by the need for men to look their best while going back to work, with a better-than-expected jobs report for August. Leading the way for these sales was an increase in slimmer fitting suits, and there is no reason to settle for "off the rack" when getting down to business. Alan David Custom tailor-makes suits and garments, for a unique fit and style that can't be replicated anywhere else.
At Alan David, nothing is pre-fab or ready-to-wear. Instead, the process begins with a carefully drafted, individual pattern for each client, producing unique individual garments which are hand-sewn in the Alan David New York City workshop.
Alan David NYC offers traditionally fitted suits, as well as slimmer styles or a "basted fitting" for the best possible fit on your body. The "basting" occurs when the fabric is hand-cut and then temporarily sewn together with white thread. This guarantees the client complete satisfaction with the final fit and appearance. Without this step, no suit can properly be called '"custom". In an age where men are once again dressing for success, only "custom" can set consumers apart from the pack.
Alan David also makes custom-fitting clothes for boys and women. To learn more, visit Alan David at http://www.alandavidnyc.com
About Alan David NYC
Since 1926, Alan David Custom has been producing the highest quality, hand-sewn, custom suits New York has to offer. Their tradition of dressing men is backed by four generations of fitting, pattern making and custom-tailoring experience. Our custom garments range from men's suits, formal wear, women's shirts, boys' suits, trousers, and more, all made at our family owned New York City factory, and hand sewn by our old world custom tailors. To learn more, visit http://http: //http: //http://www.alandavidnyc.com or phone for your custom fitting at (212) 227-4040