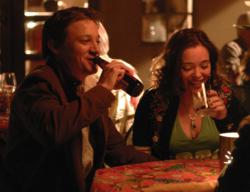 Renner shows ten times the personality and charm we're accustomed to seeing, something no big
director has tapped yet.

Don Shanahan - EXAMINER
Santa Barbara, CA (PRWEB) September 25, 2012
Jeremy Renner played gritty tough guys in both "The Hurt Locker" and "The Town". He followed those Academy Awards nominated performances with action hero roles in "Mission Impossible 4" and "The Bourne Legacy".
It will come as a surprise to many, that Renner is equally good in a comedy role. He shines as a loose funny guy in the critically acclaimed festival hit INGENIOUS, also starring Dallas Roberts.
Reviews of the movie and Renner's performance have been overwhelmingly positive.
"A terrific tale. Could become an indie success story. Renner and Roberts are sublimely cast".
Lael Lowenstein - VARIETY
"Renner shows ten times the personality and charm we're accustomed to seeing, something no big director has tapped yet."
Don Shanahan - EXAMINER
"Great script and inspired performances."
Kim Voyner - MUSIC CITY NEWS
"A very inspiring story about friendship and determination. Nice to see Jeremy Renner in such a laid-back funny role. I loved every minute of it."
Jocelyn Kujala - IN CASE YOU DIDN'T KNOW
INGENIOUS, after appearing in fifteen name festivals, essentially as a rough cut and winning a number of awards has been on the shelf waiting on finishing funds, and Renner's increasing popularity.
INGENIOUS is based on a true store. Matt (Roberts - "The Grey") a small time inventor and Sam (Renner) a slick salesman, hit rock bottom in their personal and business lives before coming up with a product that becomes a worldwide phenomenon.
"But the film isn't about the product", says Brian Neufang, a producer with Arriba Films, "it's about perseverance and not giving up on your dreams."
INGENIOUS turned down offers from major distributors in favor of raising funds on Kickstarter for their theatrical release.
"The offers we received only provided for limited LA and N.Y. releases then VOD", says Neufang. "We feel this film merits a wider Middle America audience. We're determined to prove that a good indie movie can succeed outside the Hollywood system."
INGENIOUS has raised over $40,000, and is well on its way to its $48,000 goal on Kickstarter with 19 days to go. The trailer and synopsis of INGENIOUS can be seen on the Kickstarter page. Here is the LINK.