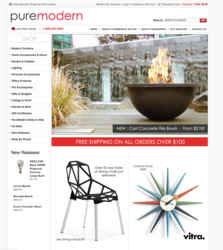 The man hours and dedication to multiple websites will be better spent on other growth opportunities including international shipping, broader advertising campaigns and targeting our commercial/trade buying clients
Austin, TX (PRWEB) September 26, 2012
PureModern will consolidate dozens of its websites back into their primary operating brand of puremodern.com.
The company which serves the growing market of retail modern and contemporary home goods has spent the past 4 years steadily expanding into more specific niche websites to grow further and appeal to a larger client base. The multisite strategy was advocated by co-founder Phillip Crane during a period of rapid growth for the company.
Many customers, however, did not realize that purchasing on a sister site was actually the same as purchasing from the parent company's website sometimes leading to brand confusion which didn't make for the best customer experience.
"With the changes in the way search engines view content, we thought it would be best to focus on the most relevant content and product mix on our primary web presence rather than risk getting penalized for duplicate content" said Crane. "The man hours and dedication to multiple websites will be better spent on other growth opportunities including international shipping, broader advertising campaigns and targeting our commercial/trade buying clients"
What to do with the domain names that PureModern has operated for a number of years has not yet been determined. The most likely outcome for the most popular niche store domains such as modernplanter.com, moderngadget.com and modernpetstore.com will be an auction or a bulk sale to a third party.
The objective of the company was always to provide unique products that aren't available at every other website or in traditional retail stores along with the best level of customer service possible. Shedding the niche sites will enable the company to focus on its mission without the distractions that operating multiple websites often produce.
The company will still continue offering products through other retail channels such as Amazon.com, and other online marketplaces under the brand PureModern.
Recognized by Internet Retailer (Second 500) for two years in a row, PureModern has had sustained growth since its inception in 2006 and expects this consolidation to contribute to record sales in 2013.
About PureModern:
With over 12,000 products and hundreds of suppliers, every product line and supplier is reviewed and chosen by the entire staff at the company making the product selection truly curated, uncommon in online retail today. Products are selected by the staff not only on aesthetic but quality and value.
Beyond the operations in Texas, PureModern operates in the United Kingdom as PureModern UK Limited.