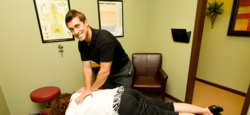 "It's smart for parents to start good habits in their kids now, so they can protect their backs and hopefully avoid chronic back pain as they get older."
Franklin, Tennessee (PRWEB) September 25, 2012
Back to school does not need to mean back to back pain for kids. Each school year children carry backpacks filled with books and school supplies. Many carry backpacks that are too heavy or improperly fitted. Parents should be aware that overly stressing the back with a heavy backpack could cause back pain for their child.
Learn how to avoid common issues that lead to back pain with a free backpack check at Hinz Family Chiropractic in Franklin, Tennessee. For the rest of September and October, children and their parents can come in for a free backpack check. Simply call Hinz Family Chiropractic or come into the office.
A heavy backpack can pull on the neck muscles, which can lead to headaches. It can also lead to shoulder pain, lower back pain, neck, and/or arm pain. Some backpack designs or ways of carrying backpacks place extra strain on children's backs. For example, Messenger style bags or carrying a backpack over one shoulder can cause muscles to strain in order to compensate for the uneven weight.
Another common cause of back pain is poor posture. "By correcting poor posture and form when carrying a backpack we can decrease the stress on the spines of growing children," says Dr. Hinz. Over time, poor posture, combined with a lack of physical activity (children usually sit a lot at school), can lead to longer term back problems. "It's smart for parents to start good habits in their kids now, so they can protect their backs and hopefully avoid chronic back pain as they get older."
Prevention and education can help prevent back pain or muscle spasms now, and help avoid bad habits that can lead to longer term back problems.
Hinz Family Chiropractic is located in the Cool Springs area at 3252 Aspen Grove Suite 12, Franklin, TN and may be reached at 1 (615) 503-9900.
About Hinz Family Chirpractic and Acupuncture
Located in Franklin, Tennessee, Hinz Family Chiropractic and Acupuncture emphasizes
prevention by improving health and reducing the risk of pain and illnesses before they
occur. Most people would rather be healthy to avoid illness, whether associated with neck
pain, back pain, sciatica, or other types of pain altogether. For this reason our wellness
center is popular -- people recognize the benefit of seeking an alternative to traditional
medicine – one that will help them achieve and maintain optimal health.
Dr. Hinz is State Licensed and a Certified National Board of Chiropractic Examiners
Practitioner. He trained at the Acupuncture Society of America in Kansas City, Missouri.