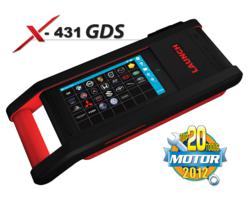 Ontario, CA (PRWEB) September 25, 2012
Launch Tech USA is pleased to announce that it has won the prestigious Motor Top 20 Tools Award for its GDS. This is the third Motor Top 20 award for the global leader in diagnostics. Launch Tech last won in 2011 for its X-SonicClean, Fuel Injector Cleaner and Diagnostic Center.
The GDS was recognized by Motor Magazine's editorial staff for its overall uniqueness and "Wow" factor, along with the innovation and efficiency it brings to today's modern technician.
"We are honored once again by MOTOR Magazine for having the GDS chosen to be the best in the industry," said Harlan Siegel, Vice President, Diagnostics, Launch Tech USA. "The GDS is the only scan tool in its price class that offers both the power of a PC-WIFI based scan tool coupled with full OE level coverage matched by none in the industry. Technicians can now have access to web based diagnostic information such as ALLDATA on the GDS while evaluating scan data, all without leaving the vehicle."
About the GDS – Modular Scan Tool
The GDS with its $2,995 MSRP offers a true Windows PC-based full coverage modular scan tool experience. With Windows, multiple applications can run simultaneously and at blazing speeds. Perform diagnostics, view graphs and record PID data all while on the web gathering diagnostic information. Print easily with the GDS's integral graphing printer. With the GDS's constant charge technology, battery life is virtually endless. Add-on Modules makes the GDS the perfect choice for those needing additional capabilities of a 4 Channel Lab Scope, Sensor Simulator, Battery Tester and much more.
About Launch Tech USA
LAUNCH Tech USA (http://www.launchtechusa.com), with parent company LAUNCH Ltd., are global leaders in the automotive diagnostics aftermarket. Launch manufacturers and distributes industry leading Automotive Diagnostics Products, Undercar and Lift Equipment to the automotive service industry since 1994.