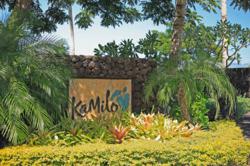 "Some of our customers have been anxiously awaiting a detached floor plan under $1,000,000. We are now able to offer exactly what they've been looking for at an even greater value." Jeff Prostor, Brookfield Homes Hawaii
Kohala Coast, HI (PRWEB) September 26, 2012
In the Hawaii real estate market, bigger isn't necessarily better. Consumers of Big Island real estate respond to ideal locations, quality construction and the unique island lifestyle. Answering the demand for a smaller, detached floor plan type in the Hawaii new home market, Brookfield Homes Hawaii has just unveiled the Cottages at KaMilo at its private, golf community on the Big Island of Hawaii.
Detached golf course homes have notoriously sold in the $1,000,000 to $1,500,000 range at Brookfield Homes' flagship resort community, KaMilo at Mauna Lani Resort. "Although our larger square footage, golf course homes have been extremely popular with buyers, some of our customers have been anxiously awaiting a detached floor plan under $1,000,000. We are now able to offer exactly what they've been looking, at an even greater value." says Jeff Prostor, President of Brookfield Homes Hawaii. The newly released Cottages at KaMilo will include 3 bedrooms, 3 baths, and a spa-like master bath, all in a detached bungalow-style residence. Starting from $775,000, the Cottages at KaMilo will offer 1 & 2 car garages, authentic Hawaii design elements, and modern finishes.
In developing the two new Cottage floor plans, Brookfield Homes Hawaii selected Honolulu-based architecture firm Clifford Planning & Architecture LLC. "We designed the Cottage interiors with the vacation traveler and the Kama'aina resident in mind" says Dr. Janine Clifford AIA/AICP/ASID, President of Clifford Planning & Architecture. "The Cottages at KaMilo offer a unique experience in Mauna Lani. The intimate entry courtyard leads to private mini-courts that have been tastefully and individually designed to reflect the understated elegance of island living."
The KaMilo new home collection of 137 single family and paired homes offers the largest selection of new luxury homes under one community on the Gold Coast of Hawaii's Big Island. Walking and biking trails connect KaMilo residents to beaches, tennis, fine dining, day spas, as well as historical Hawaiian landmarks. KaMilo offers residents exclusive access to the private 2-acre Recreation Village including 2 pools, 2 spas, a fitness center, and an expansive great lawn for outdoor dining and entertaining.
For details about this unique collection of island residences at KaMilo, visit the KaMilo Sales Center daily from 9 a.m. to 5 p.m. at 68-1122 North Kaniku Drive in the Mauna Lani Resort. Call (808) 885-6130 or visit http://www.brookfieldkamilo.com to learn more about the Kohala Coast community.
About KaMilo at Mauna Lani
KaMilo at Mauna Lani is a joint venture resort community between Brookfield Homes Hawaii, Inc. & A&B Properties, Inc. Award-winning Brookfield Homes Hawaii, Inc. offers luxury resort communities on the Islands of Hawaii including KaMilo at Mauna Lani (Island of Hawaii), Nihilani at Princeville (Island of Kauai) and PiliMai at Poipu (Island of Kauai). Brookfield Homes Hawaii understands the unique resort lifestyle and the signature design aesthetic of the Hawaiian Islands.
A&B Properties, Inc., a subsidiary of Alexander & Baldwin, Inc., is one of Hawaii's largest private landowners. Alexander & Baldwin, a Hawaii company operating in the Hawaiian Islands for over 140 years, is involved in land development, agriculture and ocean transportation.