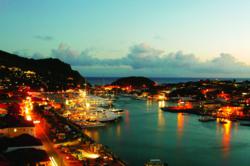 Franklin, MA (PRWEB) September 25, 2012
St. Barth Properties (SBP), a US based boutique travel company specializing in vacations on St. Barth, FWI has launched the season with a list of villas available for the 2012 coveted holiday period. The list is culled from the company's portfolio of over 160 private villas that range in style from simple beachfront bungalows to amenity-laden hilltop estates. Included are pricing, specific dates available and minimum stay requirements.
Additionally. SPB has an exclusive allotment at the Hotel Guanahani & Spa. At this beachfront resort, guests can enjoy water sports, tennis and services at its luxurious Clarins branded spa. The Guanahani also offers wonderful children's programs filled with fun and French culture for kids age 2-12.
Clients may choose either a One-Bedroom Ocean Suite at 1816 € per night or an Ocean View Room at 1496€ per night. There is a 10 night minimum within the date range of December 18, 2012 - January 3, 2013. Bookings must be made directly through St. Barth Properties.
The petite island of St. Barthlélemy, also known as St. Barts and called St. Barth by its French inhabitants, is touted for its natural beauty and Gaelic charm. An idyllic destination, it has long attracted the world's glitterati. As the New Year approaches, the picture-postcard harbor fills with glamorous super-yachts. In the evening, their twinkling lights magically illuminate the tiny capital of Gustavia.
The restaurants, arguably the Caribbean's best, are at their liveliest. During the day and early evenings the designer shops and island boutiques bustle. Celebrity spotting is always fun but St. Barth's sophisticated visitors observe the island's unwritten rules "no gawking or autograph hounding."
Detailed descriptions and images of the villas can be viewed online at the company's website and an expert team of specialists is at the ready to facilitate the booking process. The company offers a full menu of concierge services including assistance with inter-island transfers via air and yacht charter and car rental. SBP maintains a full-service office on the island and a staff member is on call 24 hours should guests require assistance.
.