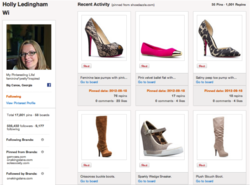 With Pinner360 brands and retailers can follow or reach out directly to their most engaged and influential pinners
San Mateo, CA (PRWEB) September 25, 2012
Today Pinfluencer, the leader in enterprise analytics and brand development for Pinterest (the fastest ever growing social media platform), launches Pinner360. As the newest addition to the Pinfluencer marketing suite, Pinner360 provides complete social media profiles, including all activity and influence scores for each Pinterest user. Brands and social media marketing agencies are now able to track each user and advocate - what they like, what they buy, and what they say on their social networks.
The biggest benefit for brands is the ability to track what the pinners have actually pinned from the brand's website, which competitors they have pinned from, which other brands they are following, which pins are generating the most engagement and tie all of these factors directly to revenue.
Although Pinterest displays everything a particular user has recently pinned, Pinner360 is a simple way to find out what specific users are pinning from various sites. This allows brands to get in-depth knowledge about their customers, prospective buyers, and viewers. Knowing which products an influential pinner or prospective buyer pins (and likes) is a great way to initiate conversations and build relationships with them.
Pinfluencer is tracking thousands of brands, over five million Pinterest users, hundreds of thousands of boards and hundreds of million of pins. With Pinner 360, brand marketers can now drill down into any specific user profile and see the following:
1. List of pins that a specific user pinned from a brand's site
2. The boards those pins were posted onto
3. Competitors/Brands that a user pins regularly from
4. Competitor/Brands that a user follows and brands that follow that user
Sharad Verma, CEO of Pinfluencer says, "With Pinner360 brands and retailers can follow or reach out directly to their most engaged and influential pinners. Showing these advocates your support is one of the best ways to engage with your customers on Pinterest. Companies can also reach out to active pinners and offer them customized discounts on the product they have recently pinned. In addition, it is possible to build relationships with influential pinners and invite them to participate in and spread the word about contests and other perks."
The future of Pinner360 is Social360 -- which can include recent Twitter tweets, FaceBook "likes", Tumbler "tumbles" and other relevant social data that helps form a complete picture of individual users for effective 1:1 marketing.
About Pinfluencer
Headquartered in Silicon Valley, Pinfluencer is the leading analytics and brand development provider for the Pinterest social media platform. Already used by dozens of well-known agencies, retailers, brands and publishers, Pinfluencer's easy-to-use analytics engine delivers rich and intelligent metrics, actionable recommendations and a competitive insights solution to expand product reach and engagement with customers.
Industry Insight - Expert Reference
If you are a journalist looking for key facts on the retail industry, feel free to contact us for insight into industry trends.
Press contact:
Tansy Brook
215-6519
tansy(at)pinflucner(dot)com
@pinfluncers
http://www.pinfluencer.com/