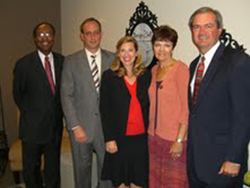 The Bulldog 100 celebrates the fastest growing businesses that are owned or operated by UGA Alumni.
Atlanta, GA (PRWEB) September 26, 2012
On September 24, 2012, Business RadioX™'s High Velocity Radio welcomed to the studio two recipients of the 2012 Georgia Bulldog 100 Alumni Awards. Co-hosts Lee Kantor and Stone Payton spoke with the Honorable Steve Jones, President of the University of Georgia (UGA) Alumni Association and Meredith Carr, Associate Director of Alumni Relations at UGA, about this year's award winners.
According to Carr, "The Bulldog 100 celebrates the fastest growing businesses that are owned or operated by UGA Alumni."
Companies will be rated by "Compounded Annual Growth Rate" of revenues for the last 3 years. All qualified businesses, regardless of location, are welcome to participate. To be considered in the program, businesses must meet the following requirements: the nominated company must have been in business for 5 years or more; the nominated company must have verifiable revenues of $100,000 or more for the calendar year 2009; the CEO, President, Managing Partner or owner must be a former University of Georgia student; the owner, a former UGA student, must own at least 50% of the business; and the nominated company must operate in a manner consistent with the Pillars of the Arch and in keeping with the values and image of the University of Georgia.
In October, the Bulldog 100 Class of 2013 will be officially announced, and an awards celebration will take place in January 2013. Business RadioX™ was fortunate enough to host two of this past year's winners: the 2012 #1 Fastest Growing Bulldog Business jobTopia CEO Anthony Moore and Stacey Anderson, owner of Queen of Hearts Antiques & Interiors.
Also joining this prestigious group in the studio was John Shurley, an Audit Partner with Gifford, Hillegass & Ingwersen,LLP. Shurley's firm partners with the UGA Alumni Association on Bulldog 100 to calculate the compounded annual growth rates of the nominated companies.
Additionally, 2012 award recipients Bob Pinckney, CEO of EvoShield and Darrick Wilkins, Founder of LTC Tree, were featured on the High Velocity Radio show on Monday, September 17, 2012.
To listen to a re-broadcast of this show in its entirety, please tune in to High Velocity Radio.
About Stone Payton:
For over 24 years, Stone Payton has been helping organizations and the people who lead them drive their business strategies more effectively. He is a managing partner at Business RadioX™ and the author of SPEED®: Never Fry Bacon In The Nude: And Other Lessons From The Quick & The Dead, and has dedicated his entire career to helping others produce better results in less time.
About Lee Kantor:
Lee Kantor has been involved in Internet radio, podcasting and blogging since he started the Dr. Fitness and the Fat Guy show in 2005. Since then, Lee has interviewed well over 1000 entrepreneurs, business owners, authors and celebrities on a variety of shows and at live events. In addition to his hosting duties, Lee is a managing partner at Business RadioX™ and is committed to helping entrepreneurs and business owners in Atlanta learn how to use radio to dramatically grow their businesses.
About High Velocity Radio:
http://highvelocityradio.businessradiox.com
High Velocity Radio celebrates Top Performers Producing Better Results In Less Time. The show brings in business leaders and experts to talk about their methods and to help listeners develop the Competence, Confidence, and Commitment to Succeed With SPEED.
About Business RadioX™:
Business RadioX™ provides a turnkey solution for business owners who want to leverage the power of internet radio to meet their best prospects, establish credibility for their organization and heighten the placement of their brand in search engines rankings. With a professional venue and a proven formula, Business RadioX™ helps hosts to podcast their shows and create a regular stream of dynamic content to share with their prospects and feed the search engines every week. Programs are recorded and streamed live to the internet from our studios in the greater Atlanta area. For more information or to hear a live show, visit: http://www.BusinessRadioX.com.