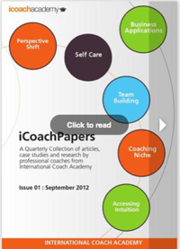 First of Its Kind Publication iCoachPapers Features Authors from Around the World
Melbourne, Australia (PRWEB) September 25, 2012
(ICA) announces the First Edition of their new publication iCoachPapers, a quarterly publication of coaching research papers, articles and case studies by International Coach Academy graduates. The release of this unique coaching resources comes as ICA celebrates their latest graduating class of certified coaches - 14 students from ICA's Chinese Program and 60 students from the English Program.
Reflecting the rich and diverse perspectives and approaches of ICA's global community, the collection of ten papers includes:

Turning Lives Around: Coaching for Effective Self Care
Making the Case for Coaching
Choice Theory and Coaching
Finding Your Niche: Finding the Clients you Need
"Coaching as a profession is influenced by many philosophies and theories: it is what makes it so exciting and unique," says CEO Robyn Logan. "This can be seen throughout iCoachPapers. I'm honored to share this with the professional community and contribute to the exciting research on coaching."
Get your copy of iCoachPapers here http://www.icoachacademy.com/icoachpapers/
About ICA: International Coach Academy is one of the world's leading providers of coach training programs and certification. We are a well-established school for those who want to be a coach. Globally more than 5,000 students have attended the International Coach Academy from more than 90 countries.
Today, with over 60 full and part time staff and trainers located throughout the world, ICA operates around the clock, over multiple time zones. Students access courses from their homes and yet engage with people from every corner of the world.
Here adults become professional coaches while sharing and connecting with a global coaching community. We are extraordinary people who are bringing the power of coaching – the realization of the human potential for creativity and resourcefulness – to changing the world for the better.