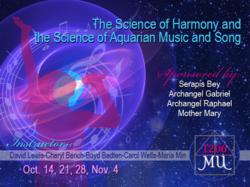 Aquarian Music... is the music of divine love, pure love from our hearts. Like a precious gem, this webinar course has many facets that will be examined and displayed by its five instructors and four sponsoring Masters.
(PRWEB) September 26, 2012
What is Aquarian music? It is the music of divine love, pure love from our hearts. Like a precious gem,Meru University's webinar course on the Science of Harmony and Aquarian Music has many facets that will be examined and displayed by its five instructors and four sponsoring masters.
Instructors Cheryl Bench, Carol Wells, Boyd Badten, Maria Min, and David Christopher Lewis will offer their hearts' wisdom, personal experience, music, and song. The sponsoring masters Serapis Bey, Archangel Gabriel, Archangel Raphael, and Mother Mary will reveal progressive teachings.
An interactive course with plenty of student participation, each of the four classes will offer examples of Aquarian music or singing.
Students will gain a greater appreciation for music, a greater understanding of the creative process, a greater ability to freely express oneself in song and music, and a greater ability to use song for spiritual work and healing.
On October 14, Cheryl Bench, with sponsor Serapis Bey, will explore devotional music of the Divine Mother, East and West. Students will learn the basics of Bhajan, Kirtan and Raga, and Holy Spirit movement and dance for releasing and raising the Mother Light: the kundalini. Cheryl will also encourage students to explore the psychological effects of music on various dimensions of being as well as music's harmonic and healing properties. Students will create their own Aquarian Age Bhajans and experience devotions to the Divine Mother through nature and the singing of the birds.
On October 21, Boyd Badten, with sponsor Archangel Gabriel, will expand several empowering themes: the science of vibration and harmony through vibration; singing as Your Crystal Self; thoughtforms created by toning and music; making clear physical tones which are entrained with the radiant sound of our Inner Tones; consciously projecting feeling, thoughtforms and beautiful sound to an audience; and using these skills to make you more effective at prayers and invocations, as well as singing.
On October 28, Carol Wells, with sponsor Archangel Raphael, will reveal key teaching on the action of harmony. She will explain the ability of song to heal the body, emotions, mind, and ancient memories through various methods. Carol will share information from The Power of Music, on current applications of music to promote healing. From The Healing Power of the Human Voice, she will discuss ideas such as the ability to project light through the voice. She will also be sharing personal experiences of devotional song writing and will encourage students to create mantras that they then may tone in 2-or 3-part harmony with others to enhance the light action.
On November 4, Maria Min, with sponsor Mother Mary, will encourage students to experience the power of their word through lyricism when prayers become songs. Sung prayers create thoughtforms at higher energetic levels. Since we create and conceive through our voice, songs are living beings. Students can explore their musical creativity by co-creating an environment where their words become a living ingredient for a joyous life. Maria will invite students to listen to an audio, allowing them to explore sensitivity to melody and share their feelings during this exploration. Students will view a few videos of music played and sung from the heart as well as share their experiment with singing and creating their own songs.
The Hearts Center Community connects many heartfriends worldwide whose mission is to realize personal enlightenment and share the ascended masters' love-wisdom teachings throughout the Earth. The community believes that each soul has a personal connection with her Higher Self. With the ascended masters as examples of selfless living, each individual may advance in personal discipleship toward the goal of the ascension through study, devotion and service to life.