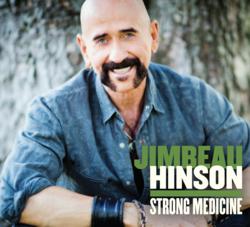 The album is inspired by my trials with HIV -- it just happens to be told through music. I'm just happy I'm here to tell it.
Nashville, TN (PRWEB) September 25, 2012
It's not every day that a bisexual singer/songwriter with HIV takes center stage in a town like Nashville, but Jimbeau Hinson is proud to be the first. More than 25 years after doctors told him that had less than two years to live, the ASCAP award-winning songwriter is releasing his first album, aptly entitled "Strong Medicine." To celebrate, Wrinkled Records is giving away free downloads of the song "Distant Vision" to the first 500 fans who visit their website.
Once considered one of Nashville's fastest rising stars, Hinson's career as a front man was effectively cut short after he came out as bisexual in the early 1970s. When he found out he was HIV-positive in 1985, he kept the diagnosis a secret for 11 years out of fear for his family's safety. The cost to his health was tremendous, and after coming out of a coma and eight-week hospital stay he decided to retire from the industry altogether.
It wasn't until Wrinkled Records CEO Sandy Knox reached out to him last year that he found himself ready to give topping the country charts a second chance. In a matter of days he was back in the studio, recording his magnum opus, "Strong Medicine", which was produced by co-writer and friend Kim Tribble.
"I've told Sandy that I'm a lot more than my condition and my sexuality," Hinson says, "For almost 30 years, I've been completely monogamous. But that will be a part of this. The album is inspired by my trials with HIV. Probably it's been pushed down the road because Sandy believes that it's a good story, one that just happens to be told through music. I'm just happy I'm here to tell it."
"Strong Medicine" came from the title of a song Jimbeau wrote many years ago and relates to the "mysterious illness" killing healthy gay men in the 1980s. The album is inspired by Jimbeau's struggle with HIV, the death of many close friends, and the fear that comes with thinking that you are next. But it is also an album about love, forgiveness, fortitude and monogamy. Specifically, the "amazing unfathomable love" of Jimbeau's wife, Brenda, and the support Jimbeau has gotten from his many close friends and family members over the years.
No one is more excited for the album's release than Hinson's roster of Grammy Award-winning partners. "I am so happy for Jimbeau," says Duane Allen of the Oak Ridge Boys. "He comes unglued on stage and loses himself in each and every song. When Jimbeau finishes performing a song, there is nothing left but a deep breath, and an 'I can't hardly believe what I just saw' feeling."
"Jimbeau is one of my favorite writers," says Rock and Roll Hall of Fame inductee Brenda Lee. "He writes the songs a singer loves to sing because he is such a great lyricist, probably because he also sings them himself. I just think he's wonderful."
Jimbeau Hinson is a platinum-selling songwriter. His notable writing credits include "Fancy Free" by the Oak Ridge Boys, "Hillbilly Highway" by Steve Earle, "Broken Trust" by Brenda Lee and "Party Crowd" by David Lee Murphy, which was named Radio and Record's Most Played Country Song of 1995. Wrinkled Records was founded by Nashville veteran Sandy Knox and former MCA executive Katie Gillon in 2011. Based out of Nashville, Tennessee, the label's artists include Etta Britt, BJ Thomas, Buffy Lawson and Jimbeau Hinson.
To learn more about Jimbeau Hinson or Wrinkled Records please visit http://www.wrinkledrecords.com or http://www.jimbeauhinson.com. To schedule an interview with Jimbeau Hinson or Sandy Knox, please contact Julie Irving at julie(at)contentfac(dot)com.