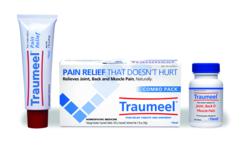 "It seems like consumers' choices for healthy pain relief continue to narrow," said Cliff Clive, CEO, Heel Inc.
Albuquerque, NM (PRWEB) September 25, 2012
Heel Inc., the makers of Traumeel®, today issued a statement to consumers that Traumeel®, a homeopathic medication, does not contain menthol, methyl salicylate, or capsaicin and is not a part of the FDA's recent safety announcement alerting the public that certain over-the-counter (OTC) products that are applied to the skin for the relief of mild muscle and joint pain have been reported to cause rare cases of serious skin injuries.
Consumers who may be looking for natural pain relief but are concerned about the FDA's safety announcement (search http://www.fda.gov/Drugs/DrugSafety/ucm318858.htm#.UFu7ib1GC2A.email) may want to know that Traumeel® is a combination of 12 natural active* ingredients (out of 14 actives) that work together to complement the body's natural processes to reduce joint, back & muscle pain which may lead to improved mobility.
On Thursday, September, 13, The FDA alerted the public that certain OTC products containing menthol, methyl salicylate, or capsaicin in various formulations including creams, lotions, ointments, and patches were causing chemical burns ranging from first- to third-degree when the products were applied in concentrations greater than 3% menthol and 10% methyl salicylate. Few cases reported using a capsaicin-containing product.
Designed to work without going through the digestive system and safe to use for more than ten days, Traumeel® still provides an alternative to Non-Steroidal Anti-Inflammatory Drugs, NSAIDs, and is squarely an alternative to menthol-based topical ointments and gels. "It seems like consumers' choices for healthy pain relief continue to narrow," said Cliff Clive, CEO, Heel Inc. "Traumeel® has been in existence for over 65 years and sold in the U.S. since 1985 – it relieves minor joint and muscular pain, naturally," he added.
Heel is a science-based pharmaceutical company that develops, manufactures and distributes medicines based on natural substances. Celebrating over 75 years, the company is a pioneer in the field of science-based homeopathic research on natural medicine and a global leader for the production of homeopathic, combination medications. With the help of its unique therapeutic concept based on Bioregulatory Medicine, Heel is working to build the bridge between conventional medicine and homeopathy. Heel medicines are available through physicians and licensed health care practitioners, independent pharmacies, retailers and fine natural product stores throughout the United States. For more information on other Heel products and their use please visit http://www.heelusa.com.
Follow Heel on Facebook and Twitter. View Heel Inc.'s growing video library on YouTube.
-30-