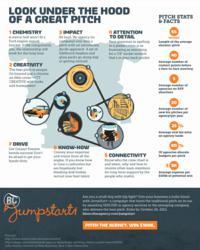 Blue Collar Interactive invites small businesses to pitch the agency to win $100K in services.
Hood River, OR (PRWEB) September 26, 2012
Blue Collar Interactive, in partnership with SwellPath, a digital marketing and measurement agency, created the JumpStart campaign to give a passionate business with the strongest pitch a turbo boost—with the resources to evolve an effective and distinctive brand experience that creates demand in the marketplace.
"It has always been a goal for our agency to make connections with people who believe in hard work and have a clear vision and passion for their business," said Rob McCready, partner and account director with Blue Collar. "We realize that it hasn't been the easiest of economic times for business owners and entrepreneurs, so we want to help energize a passionate business that needs our help by offering $100,000 in agency services. We're looking for a unique and inspired business who offers a great product or service—a small dog with big fight."
Business owners are invited to submit the most compelling pitch explaining why their company deserves the $100,000 in-kind prize by Oct. 26, 2012 at: http://www.bluecollarinteractive.com/jumpstart. After the judges select five finalists, the public will vote for their favorite JumpStart business. Entrants must share their business vision, and convey their passion.
"The proposal isn't supposed to be elaborate or traditional," said April Donovan, partner and creative director with Blue Collar. "Our team understands that the best ideas are not created in the boardroom and presented in a three-ring binder. In today's business environment, creative thinking is critical. We're looking for client partners who are curious, innovative people who value teamwork, lead by example, and love what they do. We're most inspired by people with heart and soul who dare to do the impossible."
How JumpStart Works:
The Blue Collar Interactive JumpStart Campaign begins accepting submissions on September 25, 2012. Entrants must visit: http://www.bluecollarinteractive.com/jumpstart and submit a short written essay, along with creative examples such as videos or images that capture their company's vision and passion by October 26, 2012. Judges will select and announce five finalists on November 9, 2012, when voting opens. Popular vote will decide the recipient of $100,000 in agency services with the winner will be announced on November 16, 2012. Project work commences in 2013.
About Blue Collar Interactive
Blue Collar is a full-service interactive advertising agency with a passion for hard-working ideas, strategic creative and rock-solid development. Co-founded by three partners with more than 40-years of collective creative and client service experience, the agency offers a well-balanced suite of creative and strategic services backed by blue collar values of hard work, creative problem solving and a can-do attitude. At the core, Blue Collar is a group of adept, creative, and informed problem-solvers who aren't afraid to get their hands dirty. For more information about Blue Collar Interactive, visit http://www.bluecollaragency.com.
About SwellPath
SwellPath is a digital measurement and search marketing agency based in Portland, Oregon. The agency focuses on helping clients put data driven marketing programs in place. This manifests through Google Analytics and social analytics consulting, SEO consulting, and digital advertising management services. Clients cover a range of verticals, and include Nike, Intel, Jive Software, KEEN Footwear, WebMD, and Activision. For more information on SwellPath, visit: http://www.swellpath.com.