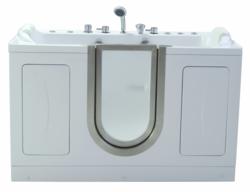 We are very excited to offer this one of a kind dual person walk in bathtub. It will make taking a bath something you can share in comfort and safety.
(PRWEB) September 25, 2012
Aging Safely Walk In Bathtubs, a supplier of low threshold and ledge free bathing fixtures, is pleased to announce it is adding the Ella's Companion Massage walk in bathtub to its growing line of products. The Ella's Companion Massage tub stands out from other walk in bathtubs because it provides the space, functionality and comfort to allow seniors, mobility impaired individuals and individuals experiencing muscle pain to enjoy safe bathing with a loved one or even caretaker.
Zach Wennstedt, CEO and Founder of Aging Safely, said, "Bathing with a loved one enhances the experience and can even add an additional element of safety. Traditional step in bathtubs are designed for single occupancy and can become dangerous and crowded if they are used by more than one person. The Ella's Companion Massage tub makes hydrotherapy safely accessible for two bathers at once because it is spacious and designed for two. The Companion can also be used to assist a caretaker in bathing a patient as well."
The Ella's Companion Massage tub is designed with safe bathing in mind. Similar to its other walk in bathtubs, the Ella's Bubbles Companion Massage tub features non-slip flooring, a convenient door and a low ledge threshold that makes it easy to exit and enter safely. Additionally, the removable door makes this acrylic tub easy to clean, so bathers do not soak with unsanitary debris. The chrome faucets and hardware add a touch of elegance to the tub that will complement any bathroom.
Although the features of the Companion Massage step in tub maximize safety, bathers will enjoy an unsurpassed luxurious bathing experience. The 95 gallon capacity bathtub features two drains, a combination of air and hydrotherapy jets along with ample seating that accommodates two bathers. Additionally, bathers can enjoy the comfort of a padded neck support that is removable for easy cleaning.
The Companion Massage model offers amenities to make soaking or massage a relaxing experience. Easy-to-use push button controls make it a breeze to enjoy hydrotherapy or air massage which can potentially help alleviate tension and achiness of arthritis or muscle pain. A convenient air flow control gives bathers the ultimate luxury of controlling the intensity of their hydro massage. A thermostatic control or more commonly known as a, anti-scalding device, gives bathers the ability to control water temperature with great accuracy. The tub also features a chromatherapy mood light system that provides therapeutic color.
The Ella's Companion Massage walk in bathtub is ideal for two people that want the ultimate in bathroom safety and style. A handheld shower nozzle makes it convenient to bathe and reach tough to clean areas. All Ella's walk in bathtubs feature a lifetime limited warranty covering the frame and door seal. Aging Safely offers this unique dual person walk in tub, as well as a full line of walk in bathtubs or roll in showers, completely installed or for supply only to all 50 States and Canada.
Contact Information:
Phoebe Maor
Toll Free 1-888-779-BATH(2284)
info(at)agingsafelybaths(dot)com