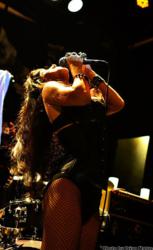 Be prepared when you enter the world of Vajra because it may change you forever. –Indieband Guru
New York, NY (PRWEB) September 25, 2012
NYC-based Alternative rock band Vajra and Filmmaker Jordan Stone began working on the first video for their hot debut album 'Pleroma'.
This underground band is certainly on the rise with already a multitude of both national and international reviews to prove it. Since they played their first NYC show in November (which sold out), Vajra was added to rotation to 200 radio stations nationwide, syndicated radio shows, podcasts, and music websites. Virgin America selected Vajra's single "Erode The Will" for their In-Flight Entertainment Series, and the band was selected as Music Ambassadors for the Supercuts Rock The Cut Program. The band just returned from a West Coast tour, performing at Sylvia Massy's 4&20 Blackbird Music Festival, The Bottom of The Hill in San Francisco and The Roxy in Los Angeles. Vajra rocked at two shows at SXSW and recently played to sold-out audiences at The Bowery Ballroom, The Mercury Lounge and The Bowery Electric in NYC. The band recently signed licensing deals with The Discovery Network, MTV, Showtime and Bravo.
Jordan's work has been presented at the Independent Film Festival in Lima, Mono No Aware, Light Industry, Harvest Works, Brik Gallery, and has been included in several touring Micro Cinema's including Deep Leap and The Speculative Frontier. He also composed music for Messhof Games projects that were exhibited internationally and in the U.S. Jordan's work addresses alienation, drugs, death and transcendence. He works primarily with hand processed and hand painted 16mm film.
Vajra's music is available on Bandcamp and ITunes at: http://itunes.apple.com/us/album/pleroma/id538349472