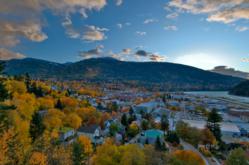 (PRWEB) September 26, 2012
As summer rolls into fall, sunrise and sunset come closer and closer together. The shorter daylight hours shift green leaves to reds and gold, and the earth settles into dormancy. Many northern animals fatten up and settle into hibernation or torpor, but for humans it's not nearly that simple. Most need to remain active and productive, even when human instincts might be to gain weight and have a rest.
As the hours of daylight decrease, many people suffer from the blues. People who are otherwise healthy can slip into a darker mood, have disrupted sleep patterns, have little energy, gain weight, and feel apathetic and depressed. In the worst cases, this annual cycle can be an indication of classical Seasonal Affective Disorder (SAD). SAD was formally described by Norman E. Rosenthal and his team at the National Institute of Mental Health (NIMH) in 1984, but this trend of low moods in northern latitudes during winter has been noted since the 6th Century in Scandinavia.
The physical therapies that are in use today include bright light, ionized air, supplementation with melatonin (the sleep hormone) and drug therapies; mental health therapies include cognitive-behavioural therapy and mindfulness-based cognitive therapy. Diet can also be an important element, as studies have noted that SAD levels in Iceland and Japan are markedly lower than in other populations; a key difference between these diets and others is they contain a high proportion of fish.
Each one of these non-drug physical therapies recreates the conditions that are experienced in the lighter days of summer. Bright light therapy is like a daily dose of sunshine; fish are high in vitamin D, the hormone our skin produces in summer sunlight; melatonin secretion is regulated by the cycles of day and night, a good balance of which creates a healthy circadian rhythm; and high density doses of negative ions recreate the conditions found in forests and near streams, compared to the dry, indoor days of winter. Physical exercise is another effective treatment, especially when used in conjunction with bright light therapy.
Creating these conditions can be a challenge as winter solstice approaches. For some, taking a week to get ahead of the seasonal blues can be a positive way to manage. Locations like the Baja have nearly year round light-filled days softened by mild humidity from the ocean nearby. A health and wellness retreat in this setting that includes exercise, a diet rich in fresh fruit, vegetables and fish and thoughtful discussion about sleep, stress, nutrition and finding a healthy lifestyle balance might set the stage for a lighter winter. One option is the Mountain Trek Fitness and Weight Loss Retreat, partnered with beautiful Rancho La Puerta just 1 hour south of San Diego.
Working in small groups, guests spend the day hiking through the rolling meadows, chaparral country dotted with boulders, and beautifully landscaped grounds. The beautifully prepared fresh meals support the transition from a fat-storing to a fat-burning metabolism. When each day is filled with light and exercise, sleep comes naturally. The knowledgeable guides and small groups lend themselves to connection and conversation, meaning that each person receives positive social support every day. Massages are included, and guests can choose from a host of fun fitness classes. The optional meditation sessions at Rancho La Puerta create the space for self-reflection that's so important for cognitive and mindfulness-based SAD therapies.
Starting the winter season with healthy mental and physical habits, and developing the strategies to manage SAD may make the difference for people who suffer from the blues. Getting outside and living well makes it easier to see the beauty of winter.