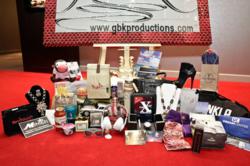 GBK is the best gifting suite! We leave everything else for last. - Anthony Anderson
Los Angeles, CA (PRWEB) September 25, 2012
GBK, the luxury lifestyle gift lounge and special events company, honored the 2012 Emmy Award Nominees and Presenters with their annual GBK Gift Lounge. This year's event was hosted at the W Hollywood on September 21st and 22nd. With over 80 celebrity guests, 9 Emmy Nominees, and actors from 20 nominated shows, GBK - the recipient of multiple BizBash's Awards for "Best Gift Bag," drew in the industry's top talent and dazzled guests with gifts, refreshments and a charitable focus. Anthony Anderson was overheard saying "GBK is the best gifting suite! We leave everything else for last." This year's signature GBK Lounge was enhanced with a show-stopping LED video wall from Global Trend Productions. Global Trend Productions Inc. (globaltrendpro.com) is a premiere production company providing production design, production management, and equipment rental, focusing primarily on LED Video Displays.
An array of products and trendy gifts filled the lounge including some unique fashions and accessories such as: One World Foundation (http://www.oneworld-foundation.org) a charitable organization, partners with Baan Unrak a children's village, to create hand-woven apparel in support of child sanctuary and education in rural Thailand; WOLFHARDT – exclusively German designed men's and women's hand-crafted leather accessories including belts, bands, and bags; Foster Grant – purveyor of "celebrity-look-for-less" frames, gifted stylish sunglasses and reading glasses and donated one pair to charity for every pair gifted at the lounge; Jorg Gray, gifted a variety of beautiful timepieces ranging in style and look; and RON DONOVAN, a New York based builder of Italian-made luxury footwear and accessories, gifted certificates for a pair of footwear and/or a gift certificate towards their first purchase.
Known for having the latest in skin and beauty products, this year's lounge featured: SKN Spin Roller System, a revolutionary skin rejuvenation tool that exfoliates and reduces the signs of aging while maximizing skincare product penetration; RevitaLash – DramatEYE's and beautify with the RevitaLash® family of conditioning and color cosmetics; The Shave of Beverly Hills, who gave $250 gift certificates for a shave and haircut; and Secret Agent Beauty – gifting Lip Plumpers / Lip Treatments to all the celebrity guests.
Some of the other unique gifts and trendy finds included: Mansion Fitness, a luxurious and strictly one-on-one personal training facility, gifting a one month personal training gift certificate including a diet and nutrition planning program; Psychic Friends Network, providing psychic advice from one of their gifted Master Psychics; and Integrated Transportation Services, gifting complimentary round-trip chauffeured sedan airport transportation gift certificates.
Some of the delicious refreshments and gourmet gifts were provided by Yazi Ginger Vodka, Yoplait® Greek 100; Bavaro's – gifting a three-month supply of their gourmet pasta sauce which is an all-natural sauce cooked the old-fashioned way, homemade; and Sabra, America's top-selling hummus, gifted each guest with a custom cooler bag filled with Sabra hummus and a Sabra Grab N' Go Snack.
This year's charity beneficiaries included:
The Dream Center – Serving over 50,000 people every month, The Dream Center has been combating the issues that afflict Los Angeles communities, rescuing people out of poverty, homelessness, hunger and substance abuse, and it is now leading the fight against human trafficking by opening the nation's largest shelter for victims of human trafficking. (dreamcenter.org)
Best Friends Animal Society – NKLA is a coalition, led by Best Friends Animal Society, of animal rescue organizations, shelters, and passionate individuals dedicated to making LA a no-kill city. (NKLA.org / bestfriends.org)
Somaly Mam Foundation – A non-profit organization dedicated to the eradication of sex slavery and the empowerment of its survivors, based on the vision and life's work of survivor and activist Somaly Mam.
# # #
ABOUT GBK:
GBK, formerly GBK Productions, is a luxury lifestyle gifting and special events company, specializing in entertainment marketing integration. Formed in 2000 by Gavin Keilly, the company's Founder and CEO, GBK consists of five divisions: GBK Celebrity Gifting, GBK Special Events, GBK Weddings, GBK Charitable Consulting and GBK Marketing/Public Relations. Widely known in the entertainment industry for bringing that little extra something into the Gifting Lounge environment, GBK offers its clients a full range of marketing services. For more information on Gavin B. Keilly (CEO), Carla Domen (VP) or GBK, please go to gbkproductions.com