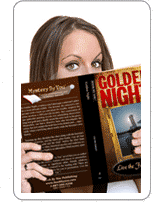 Whether it's vampires, werewolves or spell casting witches - Book By You has a personalized book to captivate readers senses
London, ON (PRWEB) September 25, 2012
Book By You, the leader in personalized books, has been hard at work cultivating their Teen Book By You division, offering many personalized titles to excite and ignite the imagination—and to break the monotony of the high school daze.
Lovers of Stephen Chbosky's cult classic novel-turned-hit-movie "The Perks of Being a Wallflower" will adore Teen Book By You's "Prom and Prejudice," featuring a smart, prank-playing jock who clashes with a clever cheerleader as they're caught up in an escalating series of adventures leading up to the prom. All the fun and frenzy of high school—from football games to student rivalries to prom night—in a hilarious and suspenseful personalized book.
For fans of the paranormal, like Cassandra Clare's "Shadowhunter Chronicles," Teen Book By you offers their latest release, "Black Lace," in which a Shadow Ward who guides lost souls to their final rest realizes his latest assignment isn't dead, but undead: a lovely, lethal vampire who feasts not on blood, but on her victims' life-force. Captive and captivated, the personalize-able hero learns that the bond between him and the personalize-able heroine is both physical and emotional. What dark secret could lead to their salvation...or their destruction?
Devotees of J.K Rowling's best-selling "Harry Potter" series will be bewitched by "Sea Spell"! A spell-casting young hero seeks an ancient treasure needed to prevent the destruction of the world. He's quickly joined by the heroine, a clever treasure hunter with a secret talent for magic (and trouble-making) of her own. Can they recover the gem before it's too late... or will the world end at dawn?
"Twilight" fans can rekindle their "Team Jacob" vs. "Team Edward" fight with Teen Book By You's personalized werewolf romance, "Night Wolf," or a personalized vampire love story, "First Bite." Jacob supporters will devour the time traveling adventure of "Night Wolf," where a modern, mystery-loving heroine is swept back to 1892 and joins a dashing young detective on the hunt for a serial killer haunting London. But the hero has a deadly secret: at each full moon, he turns into a savage werewolf! "First Bite" will leave Edward fans hungry for more in this tale, as a bright high school student has her life forever changed by a captivating stranger with a deadly secret. The mysterious hero tries to hide his true nature, but his new love won't be denied.
Customers co-author any of these personalized teen books by visiting the Book By You website and completing the questionnaire with over 30 features to personalize, including the heroine, hero, the heroine's best friend, as well as features such as hair color and length, eye color, and body type! Customers can also upload a picture for the back cover of their beautifully bound hardcover or paperback edition.
Mike Pocock, founder of Book By You, says, "These personalized teen books are a great way to relax after a long day of school and homework, and with our diverse selection, there's sure to be an exciting story perfect for any teen!"
To purchase this personalized teen book, readers visit the company's website, TeenBookByYou.com, and complete a character questionnaire specifying the information to be included in their book. The company offers a free demonstration area where readers can preview personalized excerpts from each of the company's five YA/teen/tween novels.
BookByYou.com has received national media coverage and been featured on ABC's The View, CNN, Fox News, The Wall Street Journal, Jimmy Kimmell Live and many additional media outlets.
BookByYou.com is an interactive publishing company and is the world's largest provider of personalized books. Media interviews, promotions and give-aways are available upon request. Please contact Michael Pocock at 1-877-898-1440 or publish(at)BookByYou(dot)com