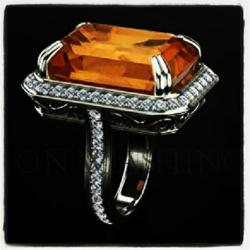 "This is our most beautiful piece created ever."
Scott R. Tischler
Phoenix, AZ (PRWEB) September 25, 2012
September 25th 2012
Scott R. Tischler unveils a one of a kind signature piece for Christmas 2012. The piece is a 42 ct Citrine with a total carat weight of 53 carats. Scott R. Tischler travels the world in search of the best gemstones and diamonds. Scott was able to procure the Citrine after months of searching for the highest quality of gemstones. Scott Tischler teamed up with world class designer and former NFL player Damon Washington to design a signature piece that is a one of kind work of art. Together Scott Tischler and Damon Washington have designed a work of art to show case the nearly flawless 42 ct Citrine.
Each year Damon Washington and Scott Tischler unveil a signature piece for Christmas and Valentines day. The Citrine ring is named the Maria and will be show cased in a major publication this 4th quarter. Smaller versions of the Maria will be available for Christmas 2012 in any gemstone desired.
The Maria is made in 14k, 18k, or 22k White or Yellow Gold and Platinum. The stones used currently are all VS stones and colorless. Only the best of the best is used for the Maria. All the diamonds are ideal cut with perfectly cut proportions to maximize the sparkle of the Citrine combined with the diamonds. The piece was difficult to make because it is made in three distinct parts. Most rings are cast in one piece. This piece is a timeless work of art and is the quality of a ring that will be in museum for all to view and enjoy.