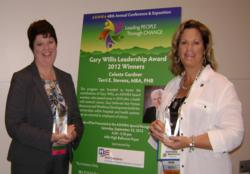 The GWL Award is a tribute to their respective contributions to the field.
Chicago, IL (PRWEB) September 25, 2012
AHA Solutions, Inc., a subsidiary of the American Hospital Association (AHA), and the American Society for Healthcare Human Resources Administration (ASHHRA) today announce the Gary Willis Leadership (GWL) Award winners for 2012. This year's honorees are: Celeste Gardner, SPHR, Director of Human Resources for St. Cloud Medical Group in St. Cloud, Minnesota, and Terri Stevens, MBA, PHR, Senior Human Resources Consultant for Carillion Clinic in Roanoke, Virginia.
The GWL Award recognizes managers and directors who have made outstanding contributions to their organizations and have demonstrated a commitment to participating in continued education for the promotion of operational excellence. The award honors the memory of an ASHHRA board member, Gary Willis, who passed away in 2010 after a battle with cancer.
"Both AHA Solutions and ASHHRA have the utmost respect for individuals such as Celeste and Terri who are devoted to advancing the health care human resources (HR) profession," said Anthony J. Burke, President and CEO of AHA Solutions. "The GWL Award is a tribute to their respective contributions to the field."
ASHHRA Director, Stephanie Drake, adds, "Individuals honored with the GWL Award should know that being health care HR professionals of Gary's caliber is a truly remarkable accomplishment and is something of which to be extremely proud. AHA Solutions and ASHHRA have a common goal, to enhance the HR experience within health care, which is something Gary always tried to do."
Celeste Gardner, SPHR
With more than 15 years of HR experience, Celeste has worked her way through many roles, including payroll clerk, recruiter, HR administrative assistant, generalist and director. She was nominated for the award based, in part, on her exceptional leadership developing, implementing and managing the Commitment to CARE program at St. Cloud Medical Group. Celeste created a program that focused on all employees doing their best work for the customer—the patient—by upholding the organization's Mission, Vision and Value system.
"Celeste is a leader in our organization with a strong business sense and great ideas," says Diana White, Administrator for St. Cloud Medical Group. "She has been and continues to be an asset to our organization."
"I was scared to death to enter health care. But I have an absolute passion for customer service. So in my role, I feel that my interaction with the staff has a direct impact on patient care," says Celeste about her career. Regarding the future, she continues, "The transition in health care is pushing HR professionals to expand our day-to-day role. We are a resource. We have to know and be prepared tp give the best-practice answer…We're in the role of service, but now we have the opportunity to think strategically, to encounter the C-Suite and understand the bottom line."
Terri Stevens
Terri resides in Roanoke, VA where she has worked for the past five years at Carilion Clinic. Previously, Ms. Stevens worked as Compensation Manager for Rockingham Memorial Hospital in Harrisonburg. Terri has demonstrated her HR excellence as project team lead developing and implementing a more simplified compensation structure for the more than 10,000 employees at her organization. She successfully created separate education modules for both employees and managers that provide information, test understanding and set action items relative to structured salary ranges.
According to Lee Byrd, Immediate Past-President for VaSHHRA, "Ms. Stevens exemplifies excellence in her HR role both as an employee and ASHHRA member. Having been fortunate to have known Gary," Byrd continues, "she embodies the key qualities that qualify her for this GWL Award: a proven HR leader, excellence in her work and a true desire to gain additional knowledge in HR."
"One of the reasons I chose to pursue a health care HR career is that I enjoy working with people and helping them find efficient solutions," says Terri. "When I first started in this field, HR was more of an administrative function…it has evolved and become a strategic business partner. HR now sits at the executive table with a voice in organizational decisions." Because of the GWL Award application process, Terri explains, "I realized the value of my leadership and operational contributions to Carilion Clinic. Answering the [application] questions allowed me to see how passionate I am about my work and my employer."
Applications for the 2013 GWL Award can be submitted online beginning January, 2013, at http://www.aha-solutions.org or http://www.ashhra.org.
About the AHA
The American Hospital Association is a not-for-profit association of health care provider organizations and individuals that are committed to the improvement of health in their communities. The AHA is the national advocate for its members, who include more than 5,000 member hospitals, health systems and other care organizations, and 42,000 individual members. Founded in 1898, the AHA provides education for health care leaders and is a source of information on health care issues and trends. Visit http://www.aha.org to learn more.
About AHA Solutions
AHA Solutions, Inc. is a resource to hospitals pursuing operational excellence. As an American Hospital Association member service, AHA Solutions collaborates with hospital leaders and market consultants to conduct product due diligence and identify solutions to hospital challenges in several operational areas, including financial sustainability, cultural transformation, care continuum and clinical integration. AHA a subsidiary of the AHA, the organization convenes people with like interests for knowledge sharing centered on timely information and research. AHA Solutions is proud to reinvest its profits in the AHA Mission: Creating healthier communities. For more information, call 800.242.4677 or visit http://www.aha-solutions.org.
About ASHHRA
Founded in 1964, ASHHRA is a personal membership group of the American Hospital Association and has more than 3,500 members nationwide. It leads the way for members to become more effective, valued, and credible leaders in health care human resources. As the foremost authority in health care HR, it provides timely and critical support through research, learning and knowledge sharing, professional development, products and resources, and provides opportunities for networking and collaboration. For more information about ASHHRA, visit http://www.ashhra.org.