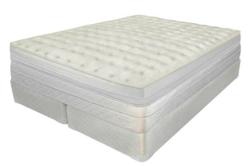 We connect directly with customers through the Internet and social media, and it's through those connections that Select Air is able to offer better mattresses at lower prices.
Miami, FL (PRWEB) September 25, 2012
In honor of Fall, Selectairbeds.com announces a special sale on all luxury air beds and premium adjustable bed bases. In what's shaping up to be the biggest specialty bedding event of the year, the Select Air™ Fall Sale delivers discounts of up to $1,000 on the industry's leading luxury air bed mattresses along with free shipping, no-interest financing, and a risk-free 30 Day At-Home Sleep Trial.
In an industry where most retailers slash prices to compete for sales, Select Air™ Beds is taking a new approach to luxury bedding retail that emphasizes value and customer experience over all else. And although prices are up to 40% off other leading brands, mattress quality and customer service remain fundamental pillars of the Select Air business model. The company operates on a more-for-less value proposition, offering customers a more advanced air bed for a fraction of the cost of other brand names like the Sleep Number® bed.
"Everyone deserves the opportunity to own a luxury air bed that will last a lifetime," explains company owner Matt Byrd. "We connect directly with customers through the Internet and social media, and it's through those connections that Select Air is able to offer better mattresses at lower prices."
Byrd explains that the biggest benefit of online marketing is cost savings. Whereas other brands spend mega-dollars to target broad audiences with national television campaigns, Select Air spends a fraction of those advertising dollars on highly targeted Web campaigns that keep overall costs low.
"It costs us much less to connect with each customer," Byrd explains. "As a result, we can afford to provide a higher quality product for up to 40% less than anyone else." But online marketing has provided Select Air with much more than just cost savings, however.
Connecting with customers online makes it easier for companies like Select Air to gather customer feedback, learn about unique needs, and synthesize the information so it may be used to improve the overall customer experience. To date, customer feedback has driven several successful promotional campaigns and has even led to the development of an innovative comfort feature that now sets Select Air apart from other luxury brands.
Enter: Innovative side-by-side air chamber construction, a new way of building dual-adjustable air bed mattresses that does not use a center beam.
"Many customers used online forums and review websites to vent frustrations about 'center beam construction,'" Byrd recalls. "Center beams are stiff, and customers do not like the way they divide the bed. At the time, we were the only ones who wanted to do something about it."
Whereas other models, including the Sleep Number bed, use 3" to 5" pieces of foam to separate each air chamber, Select Air took an innovative approach by designing each air bed mattress without any center beams. This new design is unique to Select Air and allows each air chamber to rest alongside one another without creating a stiff center "hump" that splits the mattress in two. With Select Air, each inch of the mattress surface features firmness-adjustability that is completely uninhibited by any center rails or support beams.
Select Air™ Company Information
This Fall, log on to http://www.Selectairbeds.com to save up to $1,000 on any premium air bed mattress. For additional information and purchase assistance, contact Select Air customer services at 1-888-391-5390.
Brickell Mattress: The Official Home of Select Air™
Brickell Mattress proudly represents South Florida's largest and most comprehensive collection of specialty sleep solutions. In addition to being the official home of Select Air™, Brickell Mattress features an unparalleled selection of memory foam mattresses, latex mattresses, and contemporary waterbeds. Brickell Mattress proudly offers the Couture Collection, an extraordinary line of Vi Spring beds and Carpe Diem beds that have been meticulously selected for those who desire the finest in personalized sleep solutions.
South Florida residents are invited to contact a Brickell Mattress Sleep Expert for a complimentary sleep consultation. For an exclusive Couture Collection showing, please contact Brickell Mattress at 305-326-4000.
Brickell Mattress is conveniently located at 1030 8th Street, Miami, FL 33130.