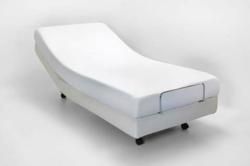 New York, NY (PRWEB) September 25, 2012
Adjustabeds.com announces the arrival of the Reverie Deluxe Bed, the newest in the advanced line of Reverie® "SmartBeds" that offer full sleep system control via mobile application, or "App", technology. User-friendly, fully adjustable, and compatible with Apple's newest generation of smartphone and tablet devices, this Reverie adjustable bed base delivers a premium sleep solution at an affordable starting price of just $899. Standard with each online purchase is the Adjustabeds Promise™ for free delivery and a lifetime of in-home service, making this fall the best opportunity to purchase a luxurious sleep solution from Adjustabeds.com.
From top to bottom, the Deluxe bed has every bell and whistle that most luxury bed shoppers desire in adjustable bed frames. Features like wireless remote control, smartphone or tablet integration, variable massage settings, and independent head and foot articulation each come standard in the Reverie Deluxe. One feature makes the Reverie Deluxe stand out from the crowd, however, and it's a feature that cannot be found in any other adjustable bed base in its class.
The Reverie Deluxe is the first adjustable base to offer a built-in power outlet that is also controlled by wireless remote or, when integrated, the owner's smartphone or tablet device. The feature brings the concept of "bedroom automation" to the average consumer, enabling wireless control of the Reverie bed frame as well as any appliance that is plugged-in to the bed frame's built-in power outlet. Owners of the all-new Reverie Deluxe may connect a television, lamp, or other bedroom appliance into the bed frame's outlet and conveniently control both from the palms of their hands. Each Deluxe bed frame comes with built-in WiFi and Bluetooth technologies to enable wireless connectivity between the bed, connected appliances, and smartphone / tablet device.
Reverie has been careful not to exclude consumers who do not own Apple products, however. The company has unveiled a new wireless remote control kit to help everyone get the most out of their Deluxe bed, without the need for added devices like iPhones, iPads, or other handheld electronics. The new wireless remote has been revamped to promote ease-of-use, visibility, and core functionality. Most talked about is the remote's new backlit display, a feature that makes the Deluxe remote easier to read when adjustments are needed in the dark. Deluxe bed owners may also program up to 3 custom positions into the remote, ensuring that their own personalized level of comfort is available at just the push of a button.
And while the Deluxe bed offers an affordable first step towards high-tech bedroom automation, the best benefits of this adjustable sleep solution are those related to health. Sleeping with the upper body elevated by 4 to 6 inches improves circulation and redistributes body weight away from the chest. Most commonly recommended by physicians as a way to alleviate sleep apnea and chronic snoring conditions, this position prevents the airways from becoming blocked during the night and promotes a general sense of tranquility just before falling asleep.
One does not have to suffer with a medical condition to benefit from sleeping in the Deluxe adjustable bed, however. The bed frame comes with a pre-programmed Zero Gravity Position that orients the body in a position of least resistance to gravity, creating a feeling of "weightlessness" that all can enjoy. The stress-relieving benefits of Zero Gravity Position provide unparalleled support and relief for individuals who suffer with mild to sever back pain, arthritis, hip pain, and sciatica as well.
Adjustabeds.com now offers the new Reverie Deluxe in all standard bed frame sizes, ranging from Twin to California King. Split-frame designs are also available to give couples the ability to have their own personal mattress and sleep settings.
Adjustabeds.com is the largest online retailer of premium adjustable beds, offering unbeatable pricing on adjustable beds by Leggett and Platt, Select Foam™ memory foam mattresses, and a variety of other specialty sleep products. Each online order also receives free shipping, a 30 day At-Home Sleep Trial, and the Adjustabeds Promise™ for a lifetime of in-home service and maintenance.
Readers are invited to contact the Sleep Experts at Adjustabeds.com by calling toll free 1-877-535-1159. Or, browse adjustable bases and premium mattresses by visiting the Adjustable Beds Shop online.