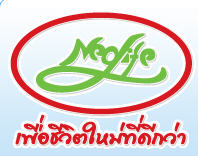 Neolife wants people to have healthy lives with quality products; wants to help Thai people build businesses that bring profit; and want to train and develop human resources to bring development to all Thailand.
(PRWEB) September 25, 2012
Founded in 2001, Neolife wants people to have healthy lives with quality products; anyone can build businesses that bring goo profit; and human resources growth to bring development to all Thailand.
Neolife brings high quality raw materials produced in the finest factories with quality controls using the best possible technology and manufacture beneficial, effective products. Neolife's products are backed by clinical research and long-term use for safety and efficacy.
Neolife International manufactures and produces herb products, food supplements, skin care products, shampoos and coffees.
Products of Neolife includes traditional drugs, which have been approved by the Thai FDA and are prescribed by traditional doctors in more than forty Neolife Centers. Other product lines include food supplements, beauty and spa products.
With a low initial investment of 20 Baht (about 0.65 US cents), there is no forceful sales, anyone can easily start with quick money, no monthly target and the fair system to all.
For more information and discussion of future business cooperation, please visit Neolife booth at TCCEXPO 2012 during November 16 to 23, 2012 at IMPACT Muang Thong Thani. TCC stands for the Thai Chamber of Commerce, organizer of TCC Expo 2012's, "the Best of Siam" celebrating its 80th Anniversary. TCC Expo 2012 attracts about 1,000 exhibitors and is expected of over half a million trade and public visitors! The TCC Expo 2012 trade fair is the "Place to Be" for people who wish to increase cooperation, seek new business opportunities and share the latest cutting-edge technology and products! The fair
For more information on Neolife International, please visit http://www.neolifeinter.com/en_main.php
For more information about Neolife international and other leading Thai companies participating in TCCEXPO 2012, please visit http://www.tccexpo.com.