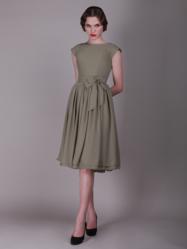 FHFH, Dress Collection Promotion, Up to 25% Off!
(PRWEB) September 25, 2012
After a successful year of business and ever growing collection of dresses, For Her and For Him launched its new site. To host the biggest sale to date, is offering up to 25% off when customers buy multiple bridesmaid dresses, including their newly released vintage bridesmaid dresses! With the bridal season just kicking off, the timing couldn't be better!
The new site provides more options to customers than ever. More color choices are provided for nearly every dress, and now customers can view pictures of any of their new bridesmaid collection in all the color choices. Now, options like choosing the length of the dress, or choosing a zip up or lace up back are available for certain dresses as well.
"We're so pleased with the growth of our company," said Alex Kong, one of the founding partners of For Her and For Him. "With all our growth and development, it just felt like the right time to give something back to our customers."
For Her and For Him is offering 10% off the purchase of two bridesmaid dresses, 20% for three to five, and 25% off of six or more. These incredible rates apply for any dress in a bridesmaid collection, and will last from May 15 to June 31, 2012.
To sweeten the deal, they are including their Custom Fit service free of charge with any purchase of more than one bridesmaid dress. Using up to 10 measurements, For Her and For Him will custom tailor ever dress to fit your body perfectly, no matter your shape or size.
As a final tip of the hat, they will provide Free express shipping for any product purchased during the promotion. You can also get a $10 coupon right away if you like them on their Facebook.
With the promotional prices, free custom fit, and free shipping, an extra $10 off, these deals haven't been made to last! So hurry over to For Her and For Him before Nov 30th to take advantage of this incredible deal!
About For Her and For Him
For Her and For Him is an online retailer of bridal gowns and formal wear that has been building a solid reputation by providing customizable fashions at affordable prices. Offering dresses that can be custom fitted and providing more than 40 color choices, For Her and For Him strives to differentiate themselves from competitors by allowing their customers to create their perfect garment.
For more information, please visit:
http://www.forherandforhim.com/vintage-bridesmaid-dresses-c-3125.html