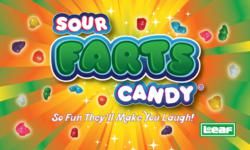 "Farts Candy® has amazingly vibrant colors and texture, along with a "really funny" name." Comments Helen Horwich, VP of Merchandising at Leaf Brands®.
Newport Coast, CA (PRWEB) September 25, 2012
–Leaf Brands, LLC, makers of confectionery products Astro Pops®, Yummers!®, Farts Candy®, David's Signature Beyond Gourmet Candy® and Sour Spanks!™ announces their proverbial 'Nerd® Killer' product, Farts Candy® is now available at Dylan's Candy Bar and retailer Forever 21 stores nationwide.
The addition of Farts Candy® to Dylan's Candy Bar and Forever 21 are part of a growing trend to marry candy with fashion and lifestyle. "Farts Candy® has amazingly vibrant colors and texture, along with a "really funny" name." Comments Helen Horwich, VP of Merchandising at Leaf Brands®. "The new business relationship with Dylan's and Forever 21 marries our fun philosophy at Leaf with the retailer's desire to excite customers through unique, quality products," Horwich said. Ellia Kassoff the Managing Partner of Leaf Brands comments: "My mission is to mix candy, fashion, art and popular culture in a way that brings a sense of enjoyment to customers." "Forever 21 came to us looking for fun and unique products that reflect the young and vibrant atmosphere of their stores, while Dylan's is known in the candy industry as the trend-setter.''
Forever 21, an LA based vibrant clothing chain with over 430 locations worldwide has started selling Leaf's Farts Candy® and very soon Sour Spanks!® in all their stores. They will be the first national retailer to carry Farts in the US and will be sold at all point of purchase areas of each store. Forever 21 started carrying candy in many of their stores as a test market and found the sweets flying off the shelves.
Leaf Brands has a great relationship with Dylan's Candy Bar. In June of this year, Leaf Brands® re-launched the iconic Astro Pop® candy at Dylan's Candy Bar at its flagship store in Manhattan after it was discontinued by Spangler Candy back in 2004. Customers can find over 5,000 types of candy at each of its stores nationwide including the new location at LA's iconic Farmer's Market. During its opening week, Leaf conducted product sampling of their popular Farts and Sour Spanks! candy at the new store to mobs of people waiting to get a sample of two sought after products and Leaf employees were thrilled to introduce their products to a growing customer base. Founder Dylan Lauren is known as 'the queen of candy' with retail boutiques around the country that are known for their fashionable, vivid atmospheres.
Despite the continued economic challenges in the U.S., confectionery sales have grown at a pace of 4.2% annually and generate $29 billion in total sales, according to Symphony IRI, a Chicago-based research firm. During the past two years, 30% of confectionery sales came from new products, according to the National Confectioners Association; Kassoff expect these new retail partners to help Leaf increase sales and capture more of the expanding U.S. candy market with its unique products sold in sometimes unconventional locations.
Farts Candy® are flavorful chewy candy nuggets in all kinds of fruity flavors that are so fun they'll make you laugh. Flavors include Sour Farts, Fruiti Farts and Little Farts. Indeed, the little bumpy, candy shell pieces with a nice, chewy texture, are a perfect candy to toss into your mouth any time you like. Sour Spanks!™ are small, colorful gum drops that "spank your tongue" with a unique combination of sweet and sour. All Leaf products are kosher and made to uphold a 'beyond gourmet' standard.
###
About Leaf Brands®, LLC: The original LEAF Brands® were started in the 1920's. LEAF Brands, once the fourth largest candy producer in North America, produced candy classics such as Whoppers®, Jolly Rancher® and Rain Blo Bubblegum®, which were later sold to Hershey Chocolate & Confectionary Corporation in the late 1990's. Family members have acquired the LEAF brand name for the US, and assembled together to revive the Leaf name and its famous image. Products include Astro Pops®, Yummers!®, Farts Candy® and David's Signature Beyond Gourmet® products.