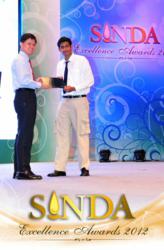 Sumanth graduated with a remarkable score of 41 points in the IB Diploma Programme.
(PRWEB) September 27, 2012
On 8 September the Singapore Indian Development Association (SINDA) celebrated its 21st SINDA Excellence Awards ceremony. Mr. Tharman Shanmugaratnam, Deputy Prime Minister and Minister for Finance graced the event congratulating the awardees and urged them to maintain their impressive paths, saying, "On that note, I would like to encourage all of you to continue to pursue your dreams with discipline and determination, regardless of which field you are pursuing, and make Singapore more resilient and diverse."
SINDA is a self-help group that actively strives to build a well-educated and confident community of Indians that stands together with the other communities in contributing to the progress of multi-racial Singapore. SINDA works closely with many volunteers, schools and grassroots organisations and runs a wide array of programmes that not only effectively serves to uplift the educational performance of Indian students, but also promotes family harmony and uplifts the social status of ethnic Indians.
Sumanth Prabhakar, a recipient of the SINDA Excellence Award said:
"I felt extremely honoured to be a recipient of the SINDA excellence award! My family was pleasantly surprised and proud of my achievement.
Nexus International School Singapore contributed to my achievement in no small way; the environment was definitely conducive to learning, and my teachers and friends made the entire experience thoroughly enjoyable! I looked forward to every day of school while I was there.
Being a member of the first graduating batch of Nexus was special and I hope many others will be inspired by this achievement."
Sumanth Prabhakar attended Nexus International School on Ulu Pandan Road and graduated the International Baccalaureate Diploma Programme (IBDP) with a remarkable score of 41 points, opening doors to the most prestigious universities in the world. Sumanth hopes to attend Harvard University in the USA after completing his National Service.
The International Baccalaureate (IB) curriculum is a progressive programme that educates beyond the classroom, promotes intercultural understanding and encourages critical thinking, developing globally tuned and life-long learners with the skills to tackle and contribute to this increasingly integrated and ever-changing world.