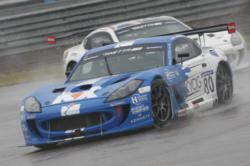 London, UK (PRWEB UK) 25 September 2012
After the driveshaft failure at Knockhill that rendered Tom Ingram a helpless passenger with rivals hurtling towards him at 95mph, Ingram had just a four-week window to regain both physical fitness and psychological readiness for the resumption of Ginetta GT Supercup hostilities at Rockingham, as the series reprised its headlining support role for the ITV4 live-televised British Touring Car Championship. It was not, he concedes, the easiest of periods. "A lot of work went on behind-the-scenes to get not only the car rebuilt but also my head back into gear," confessed the talented young High Wycombe-based speed demon. "That took a little bit of time, as the impact had really shaken me up.
A private shakedown at Mallory Park enabled Ingram to readjust to his JHR Developments-run Ginetta G55 in a non-competitive environment away from the spotlight, and having departed Knockhill with a bang, he travelled to Northants circuit Rockingham fired-up to return with a different kind of bang altogether. "Rockingham is a circuit I love," mused the SKYCIG and Hansford Sensors-backed KX Akademy protégé. "I wanted to come back and show the accident hadn't affected me – I had a point to prove, I guess – and the car felt phenomenal, for which I owe a huge 'thank you' to everybody at JHR."
"I got on the power nice and early, and as we came around the banking, the 'Last Lap' board appeared – I'd had no idea we were that close to the end, because I had been so focussed on the battle with leader Carl Breeze. I managed to hold him out wide going into Turn One, and then it was just a question of bringing it home…It felt so good to win again – it seemed like it had been ages since we had last stood on the top step of the podium – and to do so after Knockhill just made it even more special. This one was for the JHR boys – the perfect way to pay them back for all their efforts." – Tom Ingram
The reward for another supremely brave manoeuvre on the second race, left the KENNETT brand ambassador's second consecutive success has seen him slash the deficit separating him from the championship lead from 77 points to 44 with 182 still up for grabs. Better yet, the final two outings will be at Silverstone – scene of a similarly dominant double two years ago – and Brands Hatch, where he clinched both the Ginetta Junior Championship crown in 2010 and Ginetta G50 Cup laurels 12 months later. The quest for the title hat-trick, he asserts, remains very much on.
Damien Scott, UK Commercial Director of SKYCIG, said: "Our team were there in huge numbers at Knockhill to see Tom. The unfortunate start grid incident put a downer on the whole day, but the main concern was Tom's wellbeing. I'm delighted he's bounced straight back and we may yet see SKYCIG celebrating a champion come October 21st."