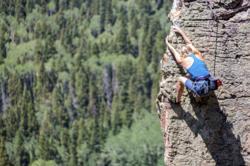 Too many sales fail when proper measures are not put into place to drive the process forward: without protection, slips and falls will cost the business
Wilmslow, Cheshire (PRWEB UK) 25 September 2012
Putting in place a sales training 'belay system' with set protection points to ensure the security of a new deal could save businesses thousands in lost revenue, sales training experts at Pareto claim. Using mountaineering practice as a guideline, their latest white paper, 'Breaking the Fall' explores the ways in which sales managers could secure and protect clients and sales deals by implementing simple and consistent guidelines for best practice in their sales staff.
In the current economic recovery period, businesses are finding that competition has increased significantly. No matter how strong or established a relationship with an existing client, no sale can be taken for granted.
Whilst points of differentiation can provide the customer with a reason to purchase, the practice of selling is equally important as the product. Pareto sales training experts have created their guide to highlight the ways in which creating sales protection points that could make the difference between converting a pitch into a sale, and losing the client to the opposition.
"For the mountaineer, belaying provides a safety net that ensures even in the case of a fall, the climber only falls as far as their last protection point. In the sales environment, we need those same protection points to ensure no sale is permitted to slip to an irretrievable point", explains Pareto Sales Training Consultant Russell Beswick. "For some, this concept becomes innate with experience. For others, sales training can provide the tools and skill set to use these effectively to safeguard the sale."
From the provision of a sales belayer to act as a safety net for new sales recruits to the simple act of ending each client interaction with the next step already in place, embedding consistent 'protection point' practice into your sales force can deliver a greater return, ensuring no sale is permitted to fall unnecessarily.
"Too many sales fail when proper measures are not put into place to drive the process forward: without protection, slips and falls will cost the business", continues Russell. "Simply leaving your client with typed up information or proposal at the end of meeting isn't a proactive or strong anchor point. Sales training can help sales people recognise when and where to place protection, to safeguard the sales process and make the climb to success as safe as possible ."
'Breaking the Fall: How Belaying could Protect Your Sales' is available now to download from the Pareto website.
About Pareto Law:
Pareto Law is the UK's leading graduate sales recruitment, sales training and sales enhancement company, specialising in helping thousands of companies around the UK and abroad to enhance and develop their sales. The company believes that 80% of sales often come from the top 20% of the sales team. Pareto Law aims to provide this top 20% through a mix of rigorous assessment and professional training.
Pareto delivers sales excellence through its four key elements – Sales Recruitment, Sales Training, Executive Recruitment and the newly launched Accolade service, an assessment and accreditation package designed to enable companies to raise the calibre of their existing sales teams.
Pareto was voted 'Sales Recruitment Agency of the Year' at the National Sales Awards. The company is also a past winner of the Sunday Times Best Small Company to Work For award, and is accredited with the Investors in People standard.
In 2008 Pareto formed a partnership with the Randstad Group, the world's second largest resourcing and staffing organisation.