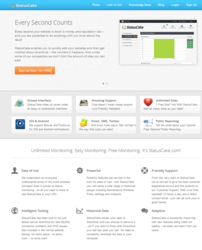 By and large website owners simply aren't aware of the dangers of their sites being hijacked and injected with malicious code – any malware of virus on your website could harm your visitors and kill-off the brand you've spent years building!
London, UK (PRWEB UK) 27 September 2012
Leading free website monitoring service StatusCake.com, from UK technology company TrafficCake, today announced that it had introduced SafeAlert – a new feature of its service which monitors websites for malware and virsues.
Speaking at the launch of SafeAlert a StatusCake spokesman said:
"We recognise the importance of online reputation. If your website is hacked and malicious code is injected into it you're putting your visitors at risk. You not only risk harming them, but ruining in minutes your business and reputation you've spent years building up."
SafeAlert will be available to all of StatusCake's paid account holders and is made available to them free of charge.
Asked why the service was free to all it's paid account holders and not only its largest corporate customers the StatusCake spokesman continued:
"We know that not everyone can afford the expensive alternatives to SafeAlert. These can cost tens of pounds, even hundreds of pounds per month – how can a small web-master commercially justify that? And yet the danger is the same to everyone, no matter how small or large your website is. That's why we think protecting your website visitors and reputation should be available and affordable to everyone."
The SafeAlert service will run alongside customer's existing website monitoring services, so any customer having their website checked for downtime every 30 seconds will be screened by SafeAlert at the same rate. This means that website owners are immediately informed of any threat to their website the moment it is detected.
With SafeAlert from StatusCake.com allowing website owners to monitor an unlimited number of websites for viruses and malware, the company hope that the introduction of SafeAlert makes using the internet a safer place for website visitors across the thousands of sites who use the StatusCake website monitoring product.
For more information on StatusCake.com, please visit http://www.statuscake.com
About TrafficCake
TrafficCake is an online marketing and analytics company based in London. The company has featured in news and industry publications for both its StatusCake.com product as well as its market-leading TrafficCake.com application – a tool used by media buying teams and websites to determine whether the advertising they are purchasing is genuine and not fraudulent bot traffic.