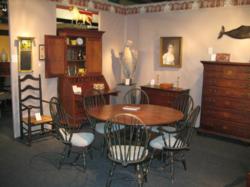 (PRWEB) September 27, 2012
The ADA/Historic Deerfield Antiques Show Antiques Show Features quality art and objects, renowned dealers and a beautiful location, and has the reputation of providing its customers with a fun and informative immersion experience in antiquing. On view and for sale are remarkable objects from the 17th through the19th centuries that will improve the quality of any collection and the look of any home. The comfortable show setting allows customers to relax, ask questions and spend their time with the objects. Brick Wall Bistro will set up a cafe on site for lunch, tea, and treats.
Admission to the show is $12 and includes entry to the state-of-the-art Flynt Center of Early New England Life at Historic Deerfield, where the bulk of the museum's collections are on view in open storage and in supporting exhibitions.
This year the ADA/Historic Deerfield Antiques Show will feature the first known exhibition devoted exclusively to Chinese Export Porcelain Cider Jugs. The porcelain cider jug has inspired a level of excitement and enthusiasm that has intrigued and possessed collectors for more than a hundred years. Cider--both the sweet and hard varieties--was the most prevalent drink in North America in the early nineteenth century. The cider jug met the need for an elegant pitcher to serve sweet cider, while retaining the practicality of straining out any added fruits and spices. The allure of this form can no doubt be attributed in part to its unusual barrel shape, which included a lid decorated with an exotic Chinese foo-dog, holes in the spout that acted as a strainer, and the elegantly twisted strap handles.
In conjunction with the antiques show and exhibition, local cider producers will be on hand on Saturday, October 6, from 12pm to 4pm to offer sweet cider tastings, and discuss cider pressing and hard cider production methods. Later in the afternoon, from 4pm to 6pm, Amanda Lange, Historic Deerfield Curatorial Department Chair, Curator of Historic Interiors and renowned ceramics scholar, will provide an introduction to the exhibition and sign copies of her book Chinese Export Art at Historic Deerfield.
ADA membership is composed of professional antiques dealers who are dedicated to integrity, honesty and ethical conduct in the antiques trade. To be accepted, dealers must have a minimum of four years experience in the trade, be recommended by a committee of peers and must sign a certification agreeing to abide by the bylaws of ADA.
All members are required to guarantee their merchandise in writing on a sales receipt which must state approximate age, origin, condition and restoration, if any, of all pieces that are sold.
To ensure that the standards outlined in the bylaws are kept by members, the Association has a standing ethics committee. Membership is renewable on an annual basis, subject to review by the Board of Directors. Only those who demonstrate dedication to the ethical standards of the Association are invited to continue their membership.
To assist both members and the public alike, ADA functions in an educational capacity, providing information, lectures, and seminars on various topics concerning antiques.
CONTACT: Karen DiSaia, Show Manager
TELEPHONE: (860) 908-0076
ADA PHONE:(203) 364-9913
EMAIL: kdisaiamanagement(at)snet(dot)net
For more information please visit http://www.adadealers.com.