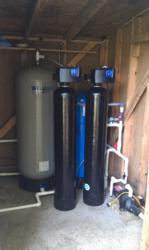 Prior to the new system, I injected chlorine into the lake water and filtered it with carbon. The water was dingy with a lot of iron and sediment. Now my water is as clear as any water from a municipality.
Santa Cruz, California (PRWEB) September 27, 2012
An estimated 15% of Americans, or about 45 million people, get their water from private ground water wells that are not subject to EPA regulations. Private ground water wells can provide clean, safe, potable water. However, well water can also become contaminated, leading to disease and illness. It is the responsibility of well owners to maintain and treat their well water when problems arise.
Lakes and reservoirs cover nearly 40 million acres of the United States and often supply small private water systems as their primary water source. These sources can contain organic material, turbidity, color, bacteria and parasites. Over the last 20 years Clean Water Systems & Stores Inc has supplied thousands of custom water treatment systems for homeowners and businesses on their own private water source.
One customer in Chapin South Carolina who uses water from a private lake, reported " The Water Specialist at the Clean Water Store helped me select the equipment and then provided simple instructions so I could install and set up the equipment myself. The end result; I saved a lot of money and I have the best water ever. Not only am I satisfied; my family is as well."
Demain Ashley, a WQA Certified Water Specialist at the company worked closely with the customer to insure optimum results. "By carefully working with our customers, we make sure the water treatment system is custom matched to their own water system and water quality. The end result is great water without reduced water pressure or flow" said Mr Ashley.
Clean Water Systems has successfully introduced its line of small water treatment systems to meet the needs of homeowners and small communities using these private water sources. Customers report clean, disinfected water low in turbidity, even when the inlet water quality is high in turbidity, color, iron, and other contaminants.
The first step is a disinfection system that automatically injects chlorine or hydrogen peroxide to kill bacteria and viruses, and oxidize contaminants such as iron in water. Other contaminants such as manganese, tannins, and hydrogen sulfide are also oxidized. The next step automatically injects a flocculant, which is a type of clarifying agent that allow suspended particles in water to aggregate, forming a floc. Flocculants are used in the water treatment process to improve the sedimentation and the ability to filter very small particles often found in water.
Clean Water Systems & Stores Inc staff tests the water in advance and can recommend which type of flocculant to use for best results.
The next step is the sedimentation process where the water flows through a specially designed contact tank to allow the flocculation process time to work and form the floc.
Next is the filtration process. The company's advanced line of automatic water purifying systems automatically remove sediment, iron, manganese, and floc from the water. No filter cartridges are used and the systems are fully automatic and self-cleaning.
For most residential and small commercial systems the next step in the treatment process is activated carbon. Unique activated carbon filter systems remove residual chlorine and peroxide, tastes, and odors. The finished water is low in turbidity, crystal clear and free of odors.
For some customers such as those using surface water from lakes, rivers and springs, additional options are available to insure high quality water such as Ultra-Filtration Membrane Systems, Ceramic Micron Filters, and Reverse Osmosis systems. These technologies present a secondary barrier to the treatment system and insure that no parasites can enter the distribution system.
Ultraviolet Light Sterilizers are another popular option and are used as a final purifier to insure that all bacteria and viruses are killed, even in the event that the main disinfection system runs out of chlorine or peroxide solution. Ultraviolet sterilizers work by exposing the cell walls of organisms to intense UV light which disrupts the genetic material and prevents the organism from reproducing.
For a limited time the company is offering its comprehensive book on well water treatment "The Definitive Guide To Well Water Treatment" on its Clean Water Store website, free of charge.