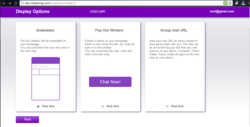 Houston, TX (PRWEB) September 27, 2012
Capturing human interest materials has become one of the most common and interesting hobbies of today. This is due to the numbers of blogs and websites being created for the sole purpose of spreading human interest and awareness. Through blogs, information travels in many parts of the world, affecting thousands of lives. The Chatwing Development Team has seen the importance of the human interest niche; with this, the company has launched a website chat box that can help bloggers and visitors communicate with each other. This chat app entails simple mechanics, yet delivers satisfying results when it comes to online communication and blog visibility.
Chatwing's free chat box has attracted thousands of people because of its sheer simplicity and usability rate. Visitors of a Chatwing chatroom just need to log in with their social media accounts. Alternatively, they can choose the Guest option. Through Guest login, the users can select from Chatwing's array of avatars which has pop culture references. As they communicate with other people, users can also select from Chatwing's emoticons to mirror how they feel about a certain discussion. This is crucial for human interest bloggers because they will be able to find more people and story references.
Chatwing also allows unlimited chat box creation; this simply means that a registered Chatwing user will be able to create infinite numbers of chat boxes, useful if he is maintaining one or more blogs. The user can also add unlimited numbers of moderators to the free shout box. The Chatwing chat app is also highly customizable. Colors, title, and size can be edited to fit the theme of a blog or website.
To ensure the 100% satisfaction of users across the world, the Chatwing team is vying for more upgrades and platform developments. The Chatwing team also has a Facebook page loaded with useful information about the free chatbox. In this way, users and visitors will be more informed.
About Chatwing.com
Chatwing.com specializes in the new field of website chat. Over years, the Chatwing team has introduced live chat widget for hundreds and thousands of blogs. The Chatwing application bridges people from many parts of the world, creating global synergy through the Internet. The shout box can be installed in just seconds, and it can be used for varying purposes such as leisure and Internet marketing. It also allows a user to customize the size, color, and name of the widget. Chatwing is 100% free for everyone.