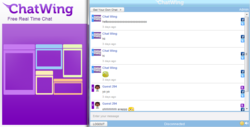 New York, NY (PRWEB) September 27, 2012
An online business is now considered as the thing of the future, based on the numbers of online businesses being introduced everyday. Most online businesses deal with products, online content, mentoring, data management, and many more. The Chatwing Development Team has just launched a chat box that can be installed to any blog or website. This chat app appears simple, but it has social media sharing option, three form factors to choose from, and a highly versatile customization style.
The recent version of Chatwing's free chat widget is capable of social media integration; with this option, users can now log in with their Facebook or Twitter accounts. Additionally, they can also share important and interesting conversations to their social media friends. Recently, the Chatwing team has added the vanity URL option—a feature that allows users to create their unique usernames and send them to their friends.
Users can also customize the appearance of the free shout box. To do this, the user must first go to his Chatwing dashboard. He can now select the form factor or chat app style that he wants. After that, he can now set the color, size, and title of the widget. The customization process depends on the preferences of the user. After completing everything, the user can now retrieve the HTML code and embed it to his blog or website. The Chatwing app will go live in just seconds after embedding.
A universal and free chat box may be the solution to many communication woes across the world. Chatwing remains true to its commitment by mapping out upgrades for the live chat box. In this way, many people will be able to utilize the communication potential of the Chatwing live chat app.
About Chatwing.com
Chatwing.com specializes in the new field of website chat. Over years, the Chatwing team has introduced live chat widget for hundreds and thousands of blogs. The Chatwing application bridges people from many parts of the world, creating global synergy through the Internet. The shout box can be installed in just seconds, and it can be used for varying purposes such as leisure and Internet marketing. It also allows a user to customize the size, color, and name of the widget. Chatwing is 100% free for everyone.