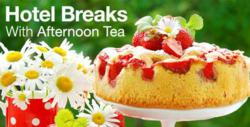 (PRWEB UK) 25 September 2012
Superbreak, the York based city breaks specialist, has announced an increase in demand for added-value breaks amongst customers this autumn. Customers looking for a little extra value on their next short break can take advantage of the company's range of added-value extras, which include afternoon tea offers, free attraction tickets and dinner inclusive breaks across the width and breadth of the UK & Ireland.
Earlier this year, the company introduced afternoon tea breaks to its hotel portfolio with many including a one or two night hotel stay with breakfast, dinner and afternoon tea. To date, the most popular afternoon tea breaks by far are the Old Swan Hotel in Harrogate and the 3* Parsonage Country House near York, which offers customers a 2 night stay, breakfast, afternoon tea and an evening meal on the 1st night of stay from £79.00 per person. These all-in-one breaks continue to build on Superbreak's strong package portfolio offering customers both value and convenience of a ready-made hotel break.
The tour operator has also extended their range of added value breaks to include a hotel stay plus free tickets to popular theme parks and attractions including Drayton Manor, Alnwick Castle & Gardens, Chatsworth House, Colchester Zoo and even a Titanic Bus and walking tour in Belfast. What sets these breaks apart from competitors is that many of these breaks also include breakfast and an evening meal. Superbreak hopes that these breaks offer customers more value on cheap weekend breaks away without having to break the bank, and, plan to introduce more of these breaks over the next few months.
The current selection of added value short breaks have already been positively received by Superbreak customers since advertising the range to customers via an e-shot prior to the August Bank holiday weekend. Visits from the added value offers e-shot rose by +37% versus the company's ever-popular dinner, bed and breakfast deals, with average order values increasing by +6.9% vs. the week's previous e-shot campaign.
Regarding the popularity of 'Added Value' breaks Chris Hagan, Head of Overseas and Ancillary Product & Contracting, commented: 'We continue to see strong growth in this area showing that our customers are looking for more than just a hotel room. Deals with dinner represent great value for money and alleviate the necessity to search around for a restaurant on the first day of your break. Our new Afternoon Tea concept has been incredibly popular with more hotels being added every week and we expect to have over 100 different properties offering these breaks in the coming months.'
About Superbreak:
Superbreak is the internet division of Superbreak Mini Holidays Limited, the market leader for short breaks and hotels throughout the UK, including hotels in Manchester, hotels in Paris and even Dubai. Superbreak is part of Holiday Break plc. Based in York, England, Superbreak specialises in booking city breaks in 2-5 star hotel accommodation throughout Britain for the leisure traveller. Superbreak also work with various travel providers offering a range of rail breaks, New Year Breaks, P&O mini cruise breaks, flights & more.
With 5000 plus hotel partners in worldwide locations from Manchester to Brighton, from London to Paris and with great availability and rates for theatre breaks, events at the O2 Arena, various popular attractions and national and international rail partners, Superbreak can offer an outstanding depth and breadth of UK and Overseas short break products.