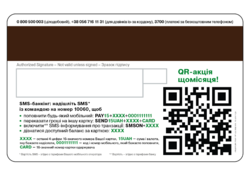 Dnipropetrovsk, Ukraine (PRWEB) September 27, 2012
Since the beginning of the school year the Ukrainian Privatbank produces student cards with a new design-now on the back of each card has a QR code. As Privatbank, using QR-code students receiving scholarships in the cards of the Bank will each month to participate in special promotions.
"If a student does not enjoy Privat24, on the page that it opens on the QR code, will be invited to take part in promotions to win iPad and other gadgets," said Deputy Chairman of the Board, PrivatBank Oleg Horokhovsky. "In General, Privatbank now many experiments with QR codes-you can enter Privat24 or withdraw cash at the ATM. "
To become a member of student's bank stocks, you simply scan the QR code on your Smartphone and go to your personal page, where you can obtain information on the monthly promotions, bonuses, discounts, and other offers.
PrivatBank became the first Ukrainian bank which started to use QR codes for banking operations. In February 2012, in the Centre of Kiev opened the first QR-supermarket banking products, in August, the Bank opened QR-login to Internet Bank Privat24, and in September started to receive cash on the QR-code on the ATM.