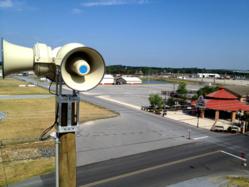 "Integration with ATI was the easiest part of the installation."
East Boston, MA (PRWEB) September 26, 2012
When Delaware State Fair officials decided to invest in a new Voice Emergency Notification System for the safety of their fairgoers, they chose ATI Systems to design and supply it. Riverfront Audio Visual, based in Wilmington, Delaware, worked with ATI to install and complete the system, which was operational in time for this year's fair in July. During the fair, the system was used for public announcements and warnings about approaching inclement weather. This issue of fair safety has gotten more attention recently as a result of the unfortunate events last year at the Indiana State Fair when a stage collapsed during heavy winds.
"Communications of public safety is a top priority of the board of directors of the fair," said Danny Aguilar, Assistant General Manager and Director of Marketing for the Delaware State Fair. "The emergency notification system was enacted twice during the fair and leading up to it, for an impending storm, to tell people to seek shelter. It was used on a daily basis to ask folks to remove their vehicles off the grounds." The Delaware State Fair has an on-site weather station that reports wind speeds so that they can constantly monitor conditions.
Since inclement weather conditions are often accompanied by fluctuations in local power grids, the ATI emergency notification system is designed to be completely operational in the event of a power failure. It has its own independent communication system, which is also backed up by the batteries. This important safety feature means that the emergency warning system will be available even when other notification systems are disrupted by the power failure or cell phone tower overload. Every component of the ATI system is configured with enough battery backup power to operate for some time without AC power, up to 5 days on standby for the high-powered speaker stations. The system communicates wirelessly through radio signals which are not dependent upon land lines or cell towers.
Tim Byrne, Regional Sales Manager for ATI Systems, worked with Delaware State Fair officials on this project. "They did want fairly extensive zone capabilities and also to control the acoustic coverage in the area. Our system provides the capability for different messaging in different areas and integrated with their existing PA system."
The entire emergency warning and notification system is controlled by the ATI Control Station. The control station allows the management team at the Delaware State Fair to activate the entire system all at once or only certain selected parts of the system. Several different acoustic zones were established in the fair grounds so that fair officials can target their notifications by area. From the central control station, fair officials can broadcast messages throughout the entire system, to an individual zone, group of zones or through an individual unit. Additional flexibility is provided with volume control.
The central control station includes a computer running ATI's MassAlert® software. The software uses a graphic user interface showing a map of the Delaware State Fair grounds with all the components of the emergency notification system visible. The software regularly polls every component of the system to check that it is working properly and reports any irregularities in real time. This enables any problem that might arise to be addressed and fixed immediately so that the entire system will be ready whenever it is needed.
Outdoor notification for Delaware State Fair is provided by six 1600 Watt High Powered Speaker Stations (HPSS16). The HPSS16 speaker stations were specially configured for the fair grounds to work with the zoned notification. Rather than using omni-directional speakers, this system uses two tri-directional and four bi-directional speakers to target specific areas. More control of the projected acoustic beam is provided by tilt adjustment of the individual speakers in each unit. The HPSS16 speakers were placed such that all of the populated areas in the fair grounds have a minimal acoustic coverage of approximately 80dBC, providing intelligible voice messages to everyone in those areas.
In addition to the six outdoor sirens, the new Voice Emergency Notification System included new BSS Audio Systems provided by Riverfront Audio Visual in eight indoor spaces within the fair grounds. The BSS Audio Systems use fiber optic links and flexible programming for the indoor spaces. They also have battery backup to get at least an hour of emergency coverage. These indoor systems were interfaced to the larger Voice Emergency Notification System via an ATI Remote Terminal Unit (RTU). ATI's RTU uses industry standards and an innovative design to interface with a variety of equipment made by other manufacturers, including BSS Audio Systems by Harman.
"Integration with ATI was the easiest part of the installation," said John Donlevie, Project Manager for Riverfront Audio Visual. "The system was painless to install. The system 'kit' came well documented and we got terrific support from ATI." ATI Systems supported the installation both from its home office in East Boston, Massachusetts and with personnel on site at the Delaware State Fair grounds. The connection between the indoor BSS Audio Systems and the ATI RTU allows the indoor systems to be controlled remotely from the Central Station for activations of alarm tones, live voice, or pre-recorded messages, while still allowing them to be operated independently. In the case of announcements or emergency notifications that affect the entire fair grounds, the indoor BSS Audio Systems will supplement the larger Voice Emergency Notification System to reach the maximum number of people possible. The rest of the time, the indoor BSS Audio Systems can operate independently to provide music or announcements for the indoor spaces they cover. This system flexibility allows for the most cost effective use of the sound equipment at Delaware State Fair.
About ATI Systems
Founded in 1981, ATI Systems (Acoustic Technology, Inc.) designs, manufactures, and installs dependable emergency warning and notification systems. ATI's advanced technology is currently protecting military bases, industrial facilities, campuses, and communities worldwide, with innovative and flexible systems that reliably provide audible and visual warning messages. The systems utilize a compact hardware design, user-friendly software, and the latest advances in communication methods, including radio frequency, IP Ethernet, fiber optics, and satellite technology. Through product design enhanced by years of experience in acoustic modeling, ATI Systems' products provide exceptional sound coverage and voice intelligibility in both outdoor and indoor settings. Their systems can be found throughout North America, Europe, the Middle East, and Asia. To learn more about ATI Systems, visit http://atisystem.com.