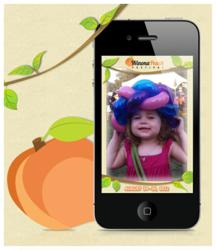 I believe that this is the type of app that can bring every event into the tech world, for young and old alike
Ottawa, Ontario (PRWEB) September 27, 2012
The Winona Peach Festival attracts 100,000 people to the City of Hamilton each year promoting community spirit, providing fundraising opportunities for area organizations, and also stimulating the local economy through its Commercial Exhibits area.
For its most recent event that took place August 24-26th, the Festival took a technological leap by launching its first ever mobile apps for iOS, Android and the mobile web. The app enabled users to view the full listing of events, obtain directions, view the site map, take souvenir framed photos of the event with the "PeachCam" feature and easily share them to Facebook and Twitter.
Organizers turned the fun photo tool into a contest by inviting users to submit their "Best Peach Smile" directly through the mobile app for a chance to win great prizes sponsored by the commercial exhibitors. Twenty-nine vendors participated in this innovative contest, which not only promoted the app but the event itself.
Debbie Bramer, Advertising Chair of the Winona Peach Festival, comments, "The SouvenirCam was so much fun to use. We used it to run contests and got many great photos from fans and photos posted to Facebook and Twitter. I believe that this is the type of app that can bring every event into the tech world, for young and old alike."
Four Grand Prize winners collectively received prizes worth over $1,500 including dance lessons, bed sheets, gift baskets and a $300 spray tattoo. Who said you could only win iPads in mobile contests?
The Festival plans to repeat the contest next year in addition to launching a BlackBerry app. The apps were developed using the easy, fun and affordable MyEventApps solution.
Read the full case study here: http://myeventapps.com/resources/case-study-winona-peach-festival/