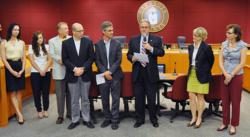 Sarasota, FL (PRWEB) September 25, 2012
Sarasota County Commission today recognized Sweet-Sparkman architects and Ringling College of Art and Design students for the 'ORIGINS' exhibit at 2012 Architecture Biennale in Venice, Italy.
The pure quartz sands of Siesta Key Beach were on display last month at the 13th International Architecture Exhibition in Venice, Italy, in an exhibit created by local architects Jerry Sparkman and Todd M. Sweet along with students, staff and alumni from the Ringling College of Art and Design. Sparkman and the team from Ringling were honored today with a certificate of recognition by the Sarasota County Commission at the start of the Sept. 25 meeting.
The conceptual exhibit, called "Origins," features a sand waterfall that flows from the ceiling through a hand-cast glass vitrine in front of a 10' x 10' glass wall. The architects from the firm of Sweet Sparkman were invited to participate in the exhibition by Rene Reitmeyer, a Dutch artist and the curator for the exhibition. Reitmeyer was intrigued by Sparkman's Casey Key beach house design, which prompted him to offer the architect an invitation to present a conceptual proposal to the exhibition's selection committee in January.
Ringling College student team members honored today include Business of Art & Design 2012 graduate Mari Garman and 2012-2013 Trustee Scholar Agneta Ramoskaite; Fine Arts seniors Diana Lueken and Devon Keene; 2012-2013 Trustee Scholar for Student Life and Interior Design senior Dehne Sibbernsen; Motion Design sophomore Jason Beale and Photography & Digital Imaging sophomore Jackson Petty.
Siesta Key's sand is made of 99.9% pure quartz. It is one of the reasons Siesta Key Beach was named the 2011 Best Beach in America by Dr. Stephen Leatherman, also known as "Dr. Beach."
The exhibit received support from the Sarasota County Commission, Sarasota County Parks and Recreation, the Gulf Coast Community Foundation and Visit Sarasota County.
The 'ORIGINS' exhibition is open to the public at the BIENNALE ARCHITETTURA 2012 until November 25, 2012 at the Palazzo Bembo, located at 4793 Riva del Carbon, 30124 Venice, Italy. More than 40,000 visitors are expected to tour the 'ORIGINS' exhibit during its run.
About Sweet Sparkman
Sweet Sparkman Architects is a multi-disciplinary architecture and planning firm specializing in community oriented projects. Principals, Todd Sweet AIA, LEED and Jerry Sparkman, AIA NCARB bring a combined 40 years experience of architecture and planning, including large mixed-use projects, corporate building projects, public sector work, civic and community projects. Sweet Sparkman Architects received AIA awards and national and international design industry recognition for a wide range of projects including private residences, office retail complexes, fire stations, park pavilions, and even a barn/music studio. For more information visit http://www.sweetsparkman.com.
About Ringling College
Ringling College of Art and Design is a private, not-for-profit, fully accredited college offering the Bachelors of Fine Arts degree in 13 disciplines: Advertising Design, Computer Animation, Digital Film-making, Fine Arts, Game Art & Design, Graphic & Interactive Communication, Illustration, Interior Design, Motion Design, Painting, Photography & Digital Imaging, Printmaking, and Sculpture, and a Bachelor of Arts degree in the Business of Art & Design. Located in Sarasota on Florida's Gulf Coast, the picturesque 48-acre campus now includes more than 110 buildings, and enrolls 1,368 students from 42 states and 53 countries. It is recognized as being among the best and most innovative visual arts colleges in the United States as well as a leader in the use of technology in the arts. http://www.Ringling.edu
For more information, contact the Sarasota County Call Center at 941-861-5000, or visit http://www.scgov.net.