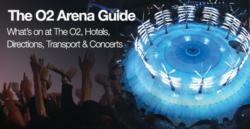 (PRWEB UK) 27 September 2012
Superbreak, the London Breaks specialist, has announced a brand new line up of world-class rock, pop and comedy acts to its autumn/winter concert breaks programme, as the O2 Arena re-opened its doors this month after a hugely successful summer of sport.
Throughout the duration of the Olympics, Superbreak has worked extremely close with the venue organisers and London hotel suppliers to secure a wealth of ticket and hotel packages for the majority of the O2's up-and-coming events. Topping the list of acts are Florence & the Machine, Alanis Morissette, Nicki Minaj, the Killers and Keane, with Justin Bieber, Plan B and the Script following in the New Year. Superbreak customers wanting to catch their favourite act, comedian or sporting event can combine entry tickets with a range of nearby 3* to 5* London Hotels, as well as choose from a host of value-added extras, including rail, attraction and dining tickets, for the perfect tailor-made short break.
In preparation of the O2 Arena re-opening, the tour operator also launched a brand new, dedicated O2 Arena London hub section on its website to help further showcase the entire range of concert packages on offer. Included in the section are a full list of events by month, helpful travel information and hotel options near the venue to ensure customers have all the information they need before taking a concert break. The Yorkshire based tour operator hopes that the variety of concerts on offer, as well as the flexible packaging options available will allow customers value for money and greater choice to experience their favourite bands and artists live in one of London's most popular venues.
This year, sales for the firms' concert and event breaks are already encouraging with a +58% revenue increase reported over the past 10 weeks. Popular event breaks amongst customers this year include Michael McIntyre, Radiohead, Muse and the ATP Tennis in November. In 2011, Superbreak sent thousands of passengers on a UK event break, with 62% of online bookings for the O2 Arena concerts. London continues to remain a key destination for the tour operator and Superbreak work hard with long-standing London based venue and hotel partners to ensure customers receive the very best package deals on their short break.
Darren Neylon, Marketing, E-Commerce & Commercial Director at Superbreak, commented: "We're really thrilled by the upcoming events and concerts that are taking place at the O2 Arena. Superbreak specialises in providing great entertainment experiences to our customers and the O2's superb line up of acts enables us to do that. There's something for everyone to enjoy, a wonderful showcase of entertainment. The demand for our O2 packages has grown significantly and we're very pleased that the quality and range of our product offering will continue to be enhanced by the announcement of these new events."
About Superbreak:
Superbreak is the internet division of Superbreak Mini Holidays Limited, the market leader for short breaks and hotels throughout the UK & worldwide from London to Edinburgh to Paris and Dubai. Superbreak is part of Holiday Break plc. Based in York, England, Superbreak specialises in booking city breaks in 2-5 star hotel accommodation throughout Britain for the leisure traveller. Superbreak also work with various travel providers offering a range of last minute hotel offers, including rail breaks, Christmas Breaks, P&O mini cruise breaks, flight packages & more.
With 5000 plus hotel partners in worldwide locations from Manchester to Brighton, from London to Paris and with great availability and rates for theatre breaks, events at the O2 Arena, various popular attractions and national and international rail partners, Superbreak can offer an outstanding depth and breadth of UK and Overseas short break products.