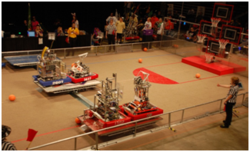 Flourtown, PA (PRWEB) September 27, 2012
Held in the Mount Saint Joseph Academy gym, this fun and educational event will feature all-female drive teams—there will be participants from high school robotics teams across the East Coast.
Spectators will get to see the 120-lb robots, programmed and driven by the girls, perform amazing feats, and clash in the arena. Visitors will also be able to learn from the teams up-close, and will be offered the opportunity to touch, handle, and even drive the robots as they learn more about them, the robotics program, and engineering in general. For more information about the Firebirds' girlPOWER event, visit http://www.firstfirebirds433.com.
Mount Saint Joseph Academy, a private secondary school for young women founded by the Sisters of Saint Joseph, has been educating founders since 1858. The Mount is located in Flourtown, PA, just outside of Philadelphia.
Where: Mount Saint Joseph Academy Gym
120 West Wissahickon Avenue
Flourtown, PA 19031
Schedule: 8:00: Doors open
8:30: Practice Round
10:00: Qualifying Round
1:30: Elimination Round
3:00: Championship
Key Visuals:

Participants from high school robotics teams across the East Coast will be demonstrating their robots and their programs, featuring female robotics team members at the drive controls
Exciting basketball-related robotics game, featuring the student-built and programmed robots
Children from area schools attending and learning about the robotics programs
Children operating the robots as the high school team members help them learn about the program
Interview Opportunities:
Robotics team members and senior leaders from Mount Saint Joseph Academy as well as other schools from the area as well as the whole east coast
Margaret Mary Rilling, Firebirds President
Erin Tiffany, Firebirds Senior Vice President
Gabriella Henkels, Firebirds Vice President of Communications
Children in attendance at the event
Engineers, scientists and others who serve as moderators for the participating robotics teams
More About girlPOWER:
On Saturday October 6th, the Firebirds (Mount's FIRST Robotics team) will host the third annual girlPOWER (Preparing Outstanding Women Engineers through Robotics) competition and exhibition.
Participants from high school robotics teams across the East Coast will attend. This event will be run under the rules of the FIRST (For the Inspiration and Recognition of Science and Technology) FRC competition. For this event, all competitors (drivers and robot maintenance crews) will be girls.
There will also be robot demonstrations, food, music and a lot of fun. Spectators will be able to take a turn driving one of several demo robots. Representatives from a number of university engineering schools will offer information about their programs. Mentors from the FIRST Lego Robotics League will be present to answer questions about starting a team of elementary school students.
The Mount team would like to extend a special invitation to elementary school girls to attend with their families.