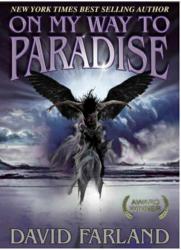 Surrounded by a world of death, Angelo Osic dreams of life and the freedom to love once more.
Saint George, Utah (PRWEB) September 27, 2012
The best-selling novel On My Way to Paradise by David Farland is now available to download for free on Amazon, Barnesandnoble, and for the iPad.
As with Nightingale, On My Way to Paradise received recognition for its extraordinary quality. While Nightingale claimed the Grand Prize at the Hollywood Book Festival and the International Book Award for Young Adult Fiction, On My Way to Paradise won the Philip K. Dick Memorial Special Award for "Best Novel in the English Language."
The science fiction novel was inspired by Farland's short story of the same name and follows Angelo Osic, who signs on as a mercenary with the Japanese Motoki Corporation in its genocidal war against the barbarian Yabajin. Jacked into training machines that simulate warfare, Angelo "dies" a hundred times...and is resurrected to fight again. Surrounded by a world of death, he dreams of life and the freedom to love once more.
Orson Scott Card, the bestselling author of Ender's Game, praised On My Way to Paradise and considers David Farland his favorite writer. "The book is so mature in its sensibility and so strong in its artistry, so deep in its invention that most of us who write fiction would be proud to have such a novel," Card stated. "Many fine works that have won Hugos and Nebulas pale beside this book."
David Farland is the international bestselling author of nearly fifty books, including, a historical piece that won the Whitney Award for Best Novel of the Year. He is best known, however, for his fantasy work, particularly his New York Times bestselling series The Runelords and his middle-grade Ravenspell series. His Nightingale novel recently released as an iBook, a version that combines illustrations, animations, author notes, and music with the award-winning story.
To get On My Way to Paradise, following this link.