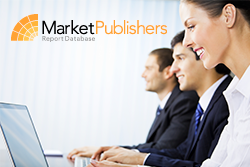 London, UK (PRWEB) September 25, 2012
The mass spectrometry market registers regular growth despite overall economic concerns as it expansion is supported by the constantly high demand level from a large number of scientific fields. The major applications of mass spectrometry equipment are: environmental, forensic analyses and clinical research.
At present, around 30 key producers participate in the market for mass spectrometry instrumentation, while annual global sales were considerably exceed USD 3.1 billion in 2009. However, the new players emerging on the market impact its dynamics significantly.
New research report "Mass Spectrometry 2012: A Focus on Sales Growth" developed by Biopharm Reports has been recently published by Market Publishers Ltd.
Report Details:
Title: Mass Spectrometry 2012: A Focus on Sales Growth
Published: August, 2012
Pages: 262
Price: US$ 4,698.00
http://marketpublishers.com/report/medicine_pharmaceuticals_biotechnology/drugs_biotechnology/mass-spectrometry-2012-a-focus-on-sales-growth.html
The study offers a comprehensive guide to the mass spectrometry market. It offers a detailed discussion of market trends, valuable data on purchases of mass spectrometry instruments and related systems, detailed overview of ionization methods and ion analyzers. Mass spectrometry configurations, fragmentation methods, innovations, expenditure, challenging applications, study samples, use of sample preparation methods and much more can be found in the report.
Report Contents:
EXECUTIVE SUMMARY
1. INTRODUCTION
2. PARTICIPANTS
3. MASS SPECTROMETRY SYSTEMS
4. IONISATION METHODS
5. ION ANALYZERS
6. DATA SYSTEMS
7. MS CONFIGURATIONS
8. FRAGMENTATION
9. MOLECULES
10. PURPOSE
11. SAMPLES
12. APPLICATIONS
13. QUANTITATIVE VS. QUALITATIVE
14. SAMPLE PREPARATION
15. CHALLENGING APPLICATIONS
16. FUTURE USE
17. INNOVATION
18. MASS SPECTROMETRY ACTIVITIES
19. EXPENDITURE
20. FINAL COMMENTS
21. DISCUSSION AND CONCLUSIONS
22. APPENDICES
FIGURES
…
More new market research reports by the publisher can be found at Biopharm Reports page.