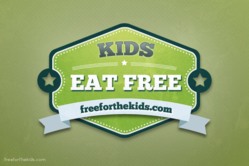 ...our main page keeps people informed about local deals at restaurants and other businesses...
Fort Collins, CO (PRWEB) September 25, 2012
With the economy still struggling and an uncertain presidential election close on the horizon, many families are tightening budgets and cutting their own frivolous spending. While some might think this requires eliminating dining out and enjoying life's "extras," the newly launched website, Free for the Kids, is proving there's still plenty of inexpensive fun to be had if you just know where to go.
Free for the Kids hopes to be every family's favorite online source for finding free food and activities for their children. The site is designed to help people discover freebies in their own area and allows site visitors to filter results based on their city and preferred day of the week. Currently the site is highlighting five cities (Denver, Fort Collins, Jacksonville, Orlando, and Minneapolis), but managers anticipate the site will grow quickly and soon provide information for locations all over the country.
"Although we're initially targeting five areas, many of the establishments we list are places that can be found nearly everywhere, so no matter where people live they can benefit from our site," said managing partner Ben Heath.
Free for the Kids plans to add other major cities to the site and will also include areas that are most requested by their users. Additionally, the site's blog is designed to be a comprehensive source of information where parents can find ideas, suggestions, and tutorials on how to affordably entertain and feed their children.
Heath explained, "While our main page keeps people informed about local deals at restaurants and other businesses, our blog discusses general things families can do to have fun and eat well without spending a lot of money. It will cover everything from seasonal activities to how-to guides. We know how important it is for families to do things together and make memories, and we want our site to be a parent's go-to destination when looking for things to do with their kids."
The site is active, already loaded with free deals and is regularly updated with new content. The website was built as a responsive web design by Spark Logix Studios. To learn more about their services or to read their blog, visit the Free for the Kids website.