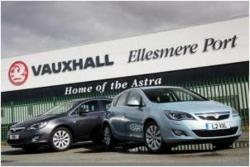 (PRWEB UK) 25 September 2012
Vauxhall is halting Astra production at Ellesmere Port for a week.
The 2,100 staff will still be paid and they will bank the hours to meet future demand. Vivaro van production in Luton will also be scaled back with similar terms for its employees.
The cutback is due to fluctuating demand across Europe and principally in Spain, Portugal, Italy and Greece.
It comes just four months after Vauxhall announced Ellesmere Port will build the next Astra in 2015 and then it intends to hire 700 people and move onto a three-shift system. That is still expected to happen.
Vauxhall has allocated £125M to Ellesmere Port to upgrade facilities and intends to build 160,000 Astras a year, with 25pc of their parts coming from UK suppliers.
Car plants always have to respond to varying demand but usually they take out odd shifts or days, rather than idling plants in the way Vauxhall says it will, but this is more common in the United States.
In the aftermath of the Asian Tsunami, a number of European plants slowed or stopped production temporarily until components could be supplied and orders were restored.
The UK automotive sector is the biggest manufacturer to export from Britain, accounting for about 11pc of shipments worth £30Billion annually from 100 markets.
Ironically, at the Paris motor show this week, Opel and Vauxhall will unveil their new Adam city car to compete with the MINI and Fiat 500 and is expected to start at about £11,000.
Keep up to date with developments in our business car news section and sign up for the business car manager