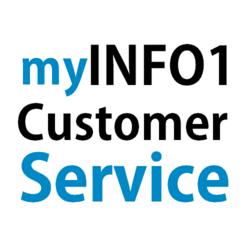 MyInfo1.com hopes to acquire more priceless feedback from their clients.
Denver, CO (PRWEB) September 26, 2012
Many background check websites make their goals regarding a number of sales, but real business achievements come from customer feedback, reports website MyInfo1.com. The public records check site has recently joined social media networks like Facebook, Twitter, Google Plus and Pinterest.
With the joining of these new social media websites, MyInfo1.com hopes to acquire more priceless feedback from their clients.
An important aspect of joining these social networks, along with the simple surveying MyInfo1.com asks of their consumers, is that the review comments have been very positive.
One MyInfo1.com customer, Juan C., said this about his customer service experience: "Pleasant. The person answered my question in a timely manner. Thanks!"
To leave a MyInfo1.com scam complaint or positive review, customers can visit the company on Facebook, Twitter, Google Plus or Pinterest. Leave MyInfo1.com an @ reply, comment or private message.
A MyInfo1.com review is appreciated from any customer, no matter if the comment is good or bad. MyInfo1.com looks towards a positive future of real consumer reviews and will take all opinions into account when running their public record searches.
About MyInfo1.com:
Thousands of warrant checks, public record checks and employment searches are conducted through MyInfo1.com daily. For more information on this customer service website, visit MyInfo1.com, call 1-800-214-3271, or contact the Customer Service Manager at josh(at)myinfo1(dot)com.